The time has finally come when an effective solar design has been created to power a solid, everyday vehicle. In the past, solar power car designs were limited to racecars that were lightweight and could seat only one person. While such cars could travel many thousands of miles powered by the sun, they weren't much use to everyday drivers.
Enter the 2014 Ford C-MAX Solar Energi Concept. This is a vehicle that can seat your entire family with a lot of leg room and storage space.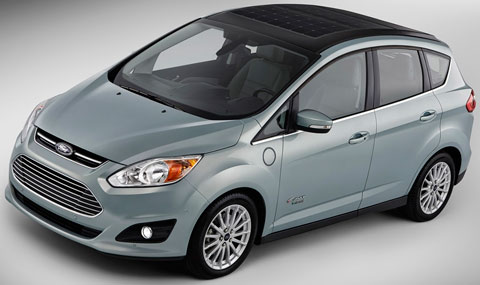 Specifications
General Info

| | |
| --- | --- |
| Vehicle Type: Hybrid Hatch | Base Price: NA |
| Total Range: 21 miles for EV + gas | MPGe for EV Mode: 108 city/ 92 hwy |
| Fuel Tank Capacity: 14 gals (53 L) | MPG for Hybrid Mode: 45 city/ 40 hwy |
Dimensions*

| | |
| --- | --- |
| Length: 173.6 in. (440.9 cm) | Wheel Base: 104.3 in. (264.9 cm) |
| Height: 63.8 in. (162 cm) | Width: 72 in. (182.9 cm) |
| Luggage Capacity: 24.5 cu ft | Maximum Seating: 5 people |
Performance

| | |
| --- | --- |
| Engine: Inline 4 Hybrid | Displacement: 2.0 Liter |
| Horsepower: 141 HP | Max RPM: 6000 RPM |
| Torque: 129 lb-ft @4000 rpm | Transmission: e-CVT |
* C-Max Energi Specs
Challenges
For decades the petroleum industry has done everything to quash the success of solar power and other renewable energy sources. This has slowed research and development, and indeed, until recently, the only solar panels available were those that could generate between a 100 and 450 watts of power per square meter.
This merely only adds up to couple of hundred usable watts of power. Additionally, it has been hard to make use of solar energy on a vehicle because cars are curved, as opposed to a flat surface needed for proper sun exposure.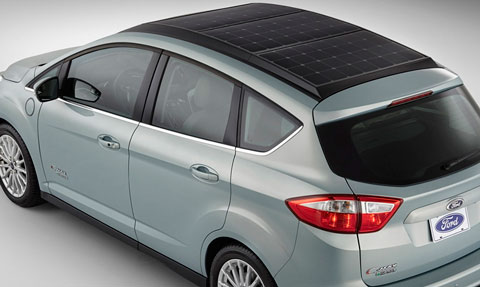 The Ford Motor Company solved these problems by equipping the C-Max with three hundred watts of solar panels in a slightly curved configuration on the roof of the vehicle. The panels hug the curve of the roof and resemble a sunroof.
They are dark in color and attractive. Even people who harbor irrational hostility in regards to solar panels will find these unobtrusive and attractive.
Sun Power
It may seem that such a small amount of solar exposure could not provide enough power for the car; however, the fact is they generate a significant amount of the energy needed to meet the needs of the average American driver.
Most Americans drive about thirty miles a day. The vehicle consumes about 250 watt hours of energy per mile, so it would consume about 7.5 kilowatt hours daily.
Savings
Under normal usage, the solar panels on the C-Max can generate about 2.16 kilowatt hours of energy a day, so they would provide almost 30% of the energy needed to power the vehicle throughout the day. This means 30% of the power the car needs is independent of power outages, charging infrastructure and the cost of electricity.
Imagine saving 30% on your vehicle fuel expenses now! Further imagine that the remaining 70% of your driving expenses are priced like electricity instead of petroleum.
In addition, you could choose to get that electricity entirely from wind generation instead of the burning of coal and petroleum products. The fact is, you don't have to imagine. All of this is entirely possible and it can save you a bundle and add up to great benefits for our one and only planet!
All in all, the Ford C-Max Solar Energi Concept is an excellent forerunner of great things to come in harnessing the power of alternative energy for private transportation. Attractive, powerful, comfortable and affordable, the C-Max has it all.