The Ford Motor Company introduces the 2013 Ford Edge Concept with the promise that this vehicle is more than just a fantasy.
It balances technological advancement with style.
With an updated interior, a plethora of technology features define this concept from Ford.
For starters, it is has a "self park" function with the push of a button. Other advance features include a lane keeping system with a front camera that scans the road for lane markings and a collision warning system that utilizes radar to locate other vehicles to the front and side. Radar alerts the driver of blind spots when other vehicles are around.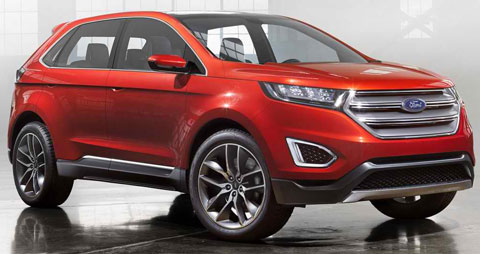 Engine
Nothing definite about the engine, but speculation has it that it may be a newer version of the EcoBoost.
Exterior
The new Edge Concept takes a step forward with the term "Crossover." New LED headlamps are connected to a new 3 bar grille section. The grille has retractable shutters that automatically open and close based on engine temperature that helps improve fuel efficiency.
Other aerodynamic additions are the front wheel well air curtains that direct air flow to the side and rear.
Added is an integrated rear roof spoiler. This concept car came painted in a copper hue with lighted chrome accents around the headlights, taillights and turn signals.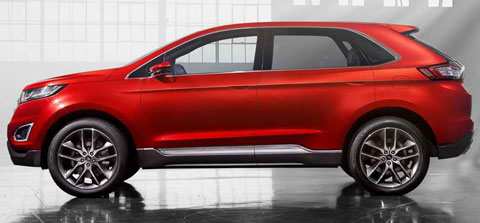 Interior
The instrument panel, center console and door panels are made of premium black Nubuck. These are trimmed with the cars exterior color (Copper), as is the carpeting.
A 10 inch touch screen display with "My Ford" capabilities dominates the dashboard. The interior "Edge" emblem is lit by an LED. Expect this next generation Edge sometime in 2015.