From Mazzanti Automobili in Italy comes the F&M Evantra, to be released in mid 2012. This limited supercar series will be produced at a rate of only five models per year.
The customization and production of each model for its client will be personally supervised by the car's builder, Luca Mazzanti.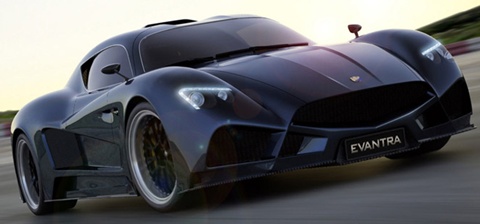 Whats in a name…
The F&M Evantra derives its name from an ancient Etruscan goddess, and was formulated by Hungarian car designer Zsolt Tarnok. The Evantra is a mid-engine super car, meaning the engine is mounted nearer to the center of the vehicle. This engine layout more evenly distributes the engine weight on all four wheels, and makes the vehicle faster and easier to turn.
Exterior & Interior
The body style of the Evantra is a two seat coupe. The car buyer will decide how the body will be constructed from one of two different options. The first option is called PRO-BODY, and will use all composite materials for assembly.
The second option is called ONE-BODY, and will be an exclusively hand-crafted aluminum body which can be thoroughly personalized by the buyer. The engine and body will be combined on a light-weight steel chassis.
The outer lines of the Evantra have the popular symmetries of many mid-engine sports cars, and the profile curves are smooth and classically molded. Several stylish details, and a mixture of concave and convex surfaces, express a distinctly competitive nature bordering on hostility.
The doors open outward and upwards making for very easy entry and exit of the vehicle. All in all, the 2012 F&M Evantra supercar is a very beautiful and sleek rocket on wheels.

Performance
The Evantra features a mid-mounted 3.5-liter flat-6 engine. Customers can select from two different engine designs, a naturally aspirated engine rated at 397 horsepower, or a 595-hp twin-turbo version.
With a low curb weight of 2465 pounds, the 2012 F&M Evantra will be able to achieve acceleration speeds of 0-60 mph in less than 3.7 seconds according to Mazzanti.
Specifications
General Info

| | |
| --- | --- |
| Vehicle Type: Coupe | Base Price: NA |
Performance

| | |
| --- | --- |
| Engine: Flat 6 – Natural & Turbo | Displacement: 3.5 Liter |
| Horsepower: 403 & 603 HP | Curb Weight: 2465 lbs (1118 kg) |
| 0-60 mph: 3.7 seconds | Maximum Speed: NA |