The 2012 CCG Automotive Dodge Wrapped Challenger SRT-8 is a demonstration vehicle used to promote the work of the German company CCG.
The company specializes in giving cars a complete makeover, both internally and externally.
Exterior Wrapping
CCG modified the exterior appearance of the Dodge Challenger SRT-8 using a technique called 'car wrapping.' This technique allows for a complete transformation of the body by applying an opaque, plastic-based, patterned film to the car.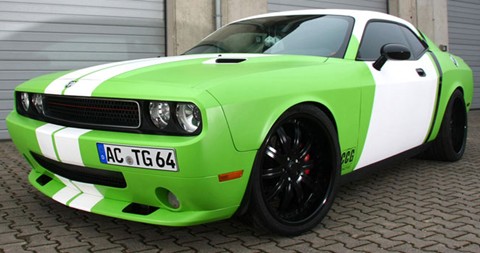 This process has several advantages over re-spraying the car. Complex color schemes and color blending can be easily produced on the film, achieving an end result that would be extremely difficult using paint.
The wrapping process is also much faster than a repaint job. Additionally, the process is reversible because the film can be easily removed. A stunning visual effect can be created for a fraction of the price it would cost to achieve the same by repainting.
Performance
CCG does not confine itself to just visually changing a car. The company also has a technical division that showed its versatility by installing a totally different engine in the demonstration Dodge.
The engineers replaced the original 6.1-liter, V8 engine of the production SRT-8 with a 7.0-liter Stroker HEMI-V8 engine. The new engine results in an increase in power from 481 horsepower to a spectacular 600 horsepower.
They also replaced the exhaust system, installing a twin pipe system they built themselves. The new exhaust system produces a very distinctive, thunder-like sound that gives the outside world a clear indication of the powerful beast under the hood.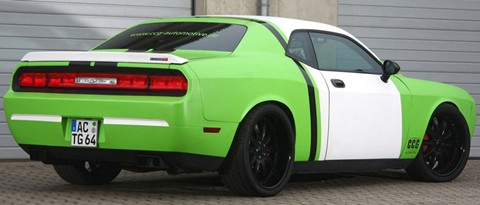 Interior
The SRT-8 also demonstrates the company's expertise at giving the inside an impressive facelift. The original seats have been given a luxury appeal by the addition of hand-stitched leather and Alcantara coverings.
Other surfaces, like the headliner and dashboard, have also been visually improved. The 2012 CCG Automotive Dodge Wrapped Challenger SRT-8 is certainly an eye-catching demonstration of CCG's imagination and skill.
Specifications
General Info

| | |
| --- | --- |
| Vehicle Type: Super Sport Coupe | Est. Market Price: NA |
Dimensions

| | |
| --- | --- |
| Length: 197.7 in. (502.1 cm) | Wheelbase: 116 in. (294.6 cm) |
| Height: 57.1 in. (145 cm) | Width: 75.7 in. (192.3 cm) |
| Curb Weight: NA | Ground Clearance: 4.8 in. (12.1 cm) |
| Luggage Capacity: 16.2 cu ft | Maximum Seating: 4 |
Performance

| | |
| --- | --- |
| Engine: Stroker HEMI V8 | Displacement: 7.0 liters cc |
| Horsepower: 600 HP | Torque: 471 lb-ft |