Unveiled at the 2014 Geneva Motor Show was the 2014 Skoda Vision C Concept.
The initial impression you get is that the 'C' denotes coupe, as evidenced by its styling. However, it is not a coupe, "technically".
The Vision C presents an effort from the Czech brand to move up the market with its vehicle offerings.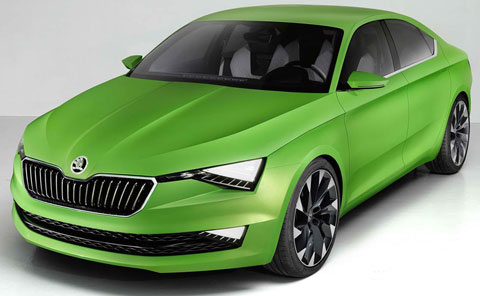 Engine
The Vision C concept will be equipped with a 1.4 liter TSI gasoline engine which generates 109 horsepower.
The car also comes with a CNG fuel option as well, which will help the Vision C achieve amazingly low CO2 levels, and comply with the European Union's 2020 emission standards.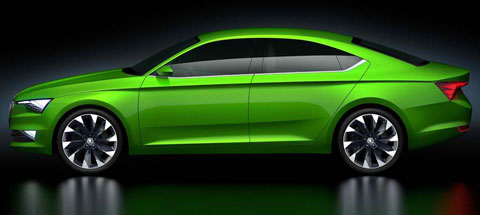 Exterior
The Skoda Vision C has familiar design language with definite lines, which look sharper. The Vision C seems to have borrowed the design cues from its cousin, the Audi A7 Sportback.
The Vision C concept is a five door coupe with a notchback design, wherein the tailgate opens with the rear windscreen. The front hood and grille design resembles the current generation Skoda cars, but much more sharper.
The headlights and taillights look angular and add to the overall sharp design of the car. The car is built of lightweight materials to help it in achieving higher fuel efficiency and lower emission levels. The coupe style also helps in achieving the same.
Interior
The interiors complement the exterior design language. The interior is dynamic, sleek and elegant. The interior features an interplay of convex and concave surfaces.
The material used is of top quality and the vehicle has plenty of space inside for four people to sit comfortably.
Vision C drive technology is very close to the production and we can expect to see this car in the market sooner than later. According to Skoda, the car is likely to be positioned with the Octavia and Superb models.