Qoros is a rather new automotive manufacturer that debuted in 2013 with two models that went into mass production. Owned by Chinese and Israeli investors, the company is already looking at design concepts that would match current trends.
The 2014 Qoros 9 Sedan concept was developed by a Korean design intern Jihoon Seo, and is the showcased the concept model at a university show during which he also received an award for the forward looking design of his work.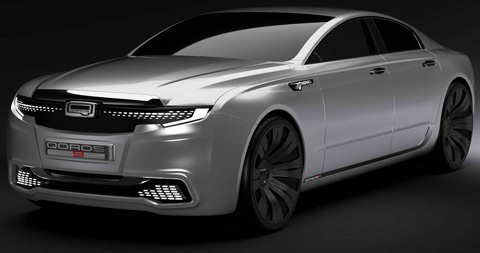 Styling
The front of the car was to give the sedan an appearance of being sturdy and massive, giving it a luxurious look. It is mainly characterized by a combination of fluid lines and aggressive geometry.
The front bumper features a narrow grille covered with a black mesh grille from side to side. The headlights are barely visible due to their size. They have an "L" like shape and can be seen on the sides of the grille. At the very bottom, another discreet grille has been placed mostly for aesthetic purposes.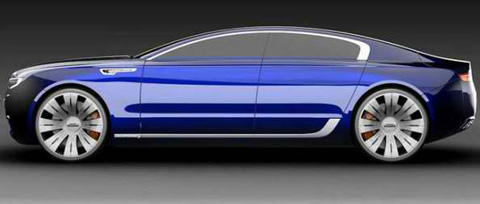 From the side, the car showcases fluent horizontal lines starting with the hood, the rooftop and continuing with an arched back that reaches all the way to the trunk.
Another design element that makes it even more futuristic is the design of the windows and front and rear windshields. They were specifically design to be less tall than usual making the rest of the body look more massive.
The rear has a minimalistic design. Its bumper was built with mostly contiguous lines and no sharp edges. The tail lights are a bit bigger than the front, but they are still smaller than usual, giving it a more discreet tone.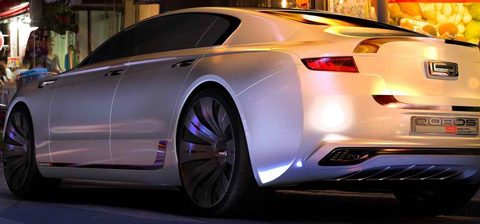 More
The Qoros 9 Sedan concept features a trapezoidal front grille with a chrome mesh and black accents flanked by LED headlights. All these elements give the Qoros an impactful visual aspect.
Also, the concept model does not feature any kind of door mirrors. Drivers will have to make use of high-definition cameras that are meant to replace the mirrors.