The 2013 ItalDesign Giugiaro Parcour Concept is a 2-seat sportcars that combines elements from a GT, a mid engine sports car, an SUV and a crossover. The ItalDesign Giugiaro is an Italian auto design studio owned by Volkswagen.
The Concept debuted at the 2013 Geneva Auto Show and is winning many hearts from both the general public and critics.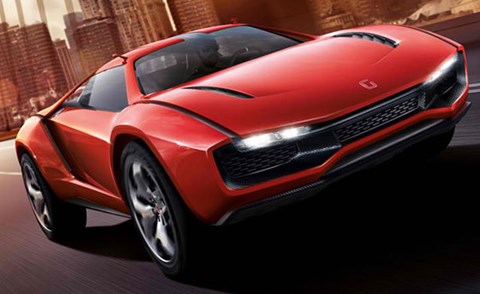 Specifications
General Info

| | |
| --- | --- |
| Vehicle Type: Coupe | Base Price: NA |
Dimensions

| | |
| --- | --- |
| Length: 178.3 in. (453 cm) | Wheel Base: NA |
| Height: 52.5 in. (133.5 cm) | Width: 81.4 in. (207 cm) |
| Curb Weight: 3417 lbs (1550 kg) | Maximum Seating: 2 people |
Performance

| | |
| --- | --- |
| Engine: V10 AWD | Displacement: 5.2 Liter |
| Horsepower: 542 HP | Torque: NA |
| 0-62 mph: 3.6 seconds | Maximum Speed: 199 mph (320 km/h) |
Engine
The 2013 Parcour Concept features a 5.2L V10 Lamborghini engine that is capable of producing a maximum of 550 horsepower. The drive train is mounted on a 7-speed dual-clutch automatic gear box enabling the car to accelerate from 0 to 62 mph in just 3.6 seconds.
The Parcour will be offered with 4 different driving modes: Sport, Comfort, Ice, and Off-road. Each will be distinguished by a different color on the dashboard: red, white, blue and orange respectively.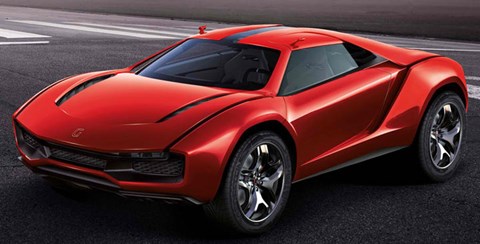 Exterior
The concept comes with an adjustable suspension, similar to the one of the Porsche Cayenne that enables the driver to elevate the ride height from 8.2 inches to 13.0 inches. The suspension is complemented by the 22-inch wheels which come in very handy in raising the car from the ground considerably.
In the rear, you will notice a rear pillar that has been designed to direct the air over the bonnet toward the retractable spoiler. Another distinguishing exterior feature is the A-Pillar that has been detached from the windscreen that also operates as a deflector.
Interior
On the inside, you will definitely notice the large LCD screen providing all vehicle's information. GPS maps, backup camera's image and visuals for the audio system are displayed on the top half of the screen replacing the center console monitors found in most production cars.
The cabin also comes with a Plexiglas dashboard that houses the audio and climate controls, knobs for transmission programming and adjusting the suspension, as well as the LCD screen. The car comes with fixed bucket seats but the pedals and the steering wheel are fully adjustable.
The 2013 ItalDesign Giugiaro Parcour Concept will make heads turn on the road. This Concept is an appropriate way for ItalDesign Giugiaro to celebrate its 45th anniversary.