Originally introduced in 1963, the Buick Riviera quickly became one of the carmakers top sellers. The last concept edition of the Riviera was showcased at the 2007 Shanghai auto show.
However, with the 2013 model it appears Buick may be getting serious about a production version. The 2013 Buick Riviera Concept has a futuristic flow to its exterior. This is no coincidence given its design was inspired by moving water.
Perhaps the most amazing "concept" of this futuristic vehicle is its wireless plug-in electric hybrid propulsion system. This allows for remote recharging of the cars battery via a sensory panel.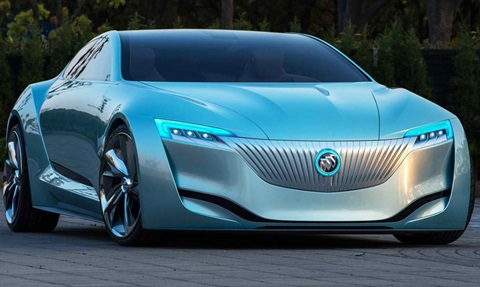 Motor & Performance
The Buick Riviera Concept car is a wireless plug-in hybrid electric vehicle (W-PHEV). Other performance elements include an air spring handling system that insures optimum performance under all driving conditions and an electromagnetically controlled suspension.
It also has a "smart" 4 wheel drive steering system. You are feted to internet access, the infotainment scheme includes safety settings and driver assistance.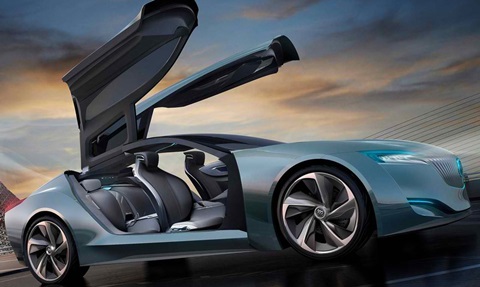 Exterior
One can only hope that many of the styling features seen on the Riviera Concept car will survive the production line. Some of its components are clearly too advanced for the entire unit to make it through unscathed.
There is no doubt the renowned waterfall front grille will be present proudly displaying the Buick emblem on its center. Hopefully the gull wing doors will survive, as well as the wing shaped running lights for daytime use.
Other exterior components include active pneumatic wheels, working diffusers and grille shutters and a metallic-fiber spoiler. Overall, the Riviera is constructed with a streamlined 14 degree angle fastback profile.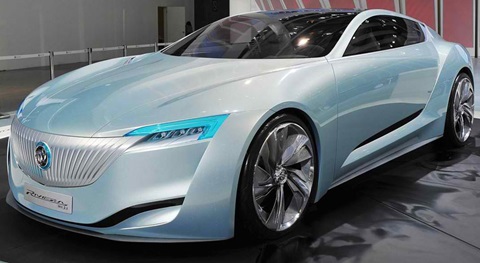 Interior
Just the like the exterior design, the 2013 Riviera Concept provides an all around flow to it. The front seat is described as "floating" that complements the adaptive seating system. The concept's center console is compact and easy on the eyes.
The head restraints absorb noise. All the materials used inside this vehicle are top quality, including the lava suede seats. Of course there is a high speed internet system that is neatly displayed at an angle resting atop a shelf-like extension on the dash.