The 2012 Pininfarina Cambiano Concept boasts of high end engineering and a cutting edge design.
This new addition to the luxury cars of the world gives future owners an elegant, sleek and sporty car that will definitely fit every single moment in their lives.
Electric Performance
The Cambiano is an electric car that weighs 3737 pounds. Its aerodynamic contours give this new car power and speed that will surely be appreciated by people in the country.
The Cambiano can reach 0-62 mph in just 4.2 seconds and has a top speed of 171 mph.
There is no doubt that people will stare in awe when they see the smooth body and sleek movement of the Cambiano Concept.
Exterior Details
The creation of this car has been made to work harmoniously with every single aspect of the car. The grilles for example have an opening that allows air into the system for the turbo mechanism. The car's tail lights almost moulds into the body, making it virtually intangible.
The lights would appear like magic once it has been turned on. People with an appetite for beauty and diversity will definitely be enamored by this revolutionary car.
Zero Emissions
Pininfarina works with their mission of sustainable mobility for every single product that they create. This new car of course boasts of sustainable mobility but it has more than that.
The company has also developed this car to be eco-sustainable to help the environment when it comes to CO2 emission.
The Cambiano is an electric car that can guarantee every single user of zero harmful gas emission. This is achieved by switching to the car's preferred driving mode.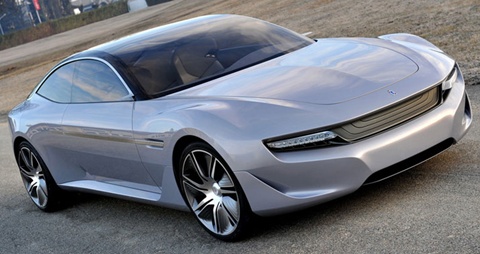 Future owners can simply do this with a selector lever that will allow them to use the car in Ecocity mode. This mode allows drivers to drive using the full electric capability with zero emissions.
The 2012 Pininfarina Cambiano Concept is a true work of art that will give owners a grand time driving in comfort and style.
Specifications
General Info

| | |
| --- | --- |
| Vehicle Type: Electric | Base Price: NA |
Dimensions

| | |
| --- | --- |
| Length: 198 in. (504 cm) | Wheel Base: NA |
| Height: 53.5 in. (136 cm) | Width: 78.7 in. (200 cm) |
| Curb Weight: 3737 lbs (1695 kg) | Ground Clearance: NA |
| Luggage Capacity: 15.8 cu ft | Maximum Seating: 4 people |
Performance

| | |
| --- | --- |
| Torque: 472 lb-ft | Transmission: NA |
| 0-60 mph: 4.2 seconds | Maximum Speed: 171 mph (275 km/h) |