The world is changing and customer expectations are doing the same at a very high rate. To meet these expectations, the 2015 Citroen C4 Cactus has been produced.
The French car-maker believes the ultra-lightweight car will be a real alternative to the traditional compact hatchback. The car boosts a handsome design and stands out from its rivals. The C4 Cactus is designed for better comfort using new technology.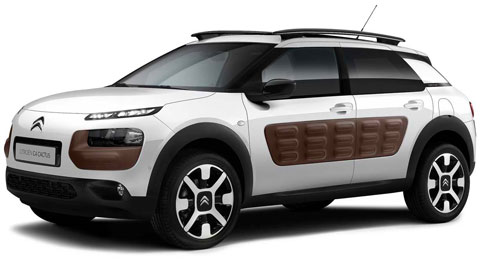 Engine
The C4 Cactus is expected to be powered by a 3-cylinder turbocharged PureTech petrol engine producing 110 horsepower.
Exterior
The C4 is available in 4 color themes; black, chocolate, grey and dune. It can be matched with the 10 body colors and 3 choices of interior trim; Habana highlight, stone grey ambiance and purple highlight, a wide range of options for you to choose from.
The new car features a smooth rounded nose complimented by high-tech headlights that come with daytime running lights. The black wheel arches and a floating roof has become a signature design.
The wheelbase is 102.4 inches (260 cm) long which matches that of the C4 hatch. This means the Cactus C4 is shorter and lower. The car also features shorter overhangs. The engineers have reduced the weight of this new car by 441 lbs(200 kg).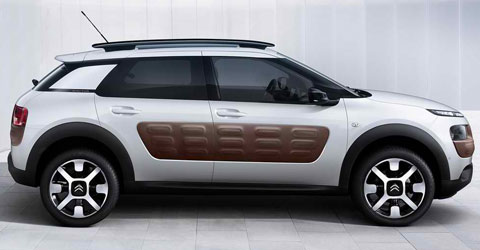 Interior
The interior provides great comfort creating more space for the driver and passengers. The cabin has been de-cluttered to offer a friendlier, relaxing environment.
The conventional control buttons have been replaced by a 7-inch touch-screen. The touch-screen provides access to vehicle functions such as air conditioning, settings, media, telephone, navigation, driving aids and connectivity.
The styling includes door handles is inspired by leather straps for luggage's and a storage compartment above of dashboard. The seat upholstery, dashboard and door trim are available in 3 different colors; purple highlight, stone grey and Habana highlight.
Safety
Safety features include airbag in roof technology, park assist and parking camera, Citroen eTouch service for emergency and hill-start assist.