Citroen has enjoyed success for decades with its range of up market DS car models – but now the company is focusing on C-line.
The new 2013 Citroen Cactus concept is an example of what's in store for motor enthusiasts. The Cactus concept is a user-friendly car that forges an unparalleled harmony between unique yet pragmatic design, comfy for all the occupants, as well as easy-to-use technology.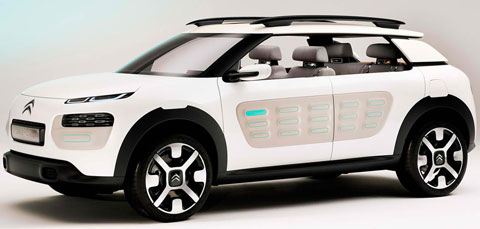 Genesis
The reveal of the Cactus concept car in 2007 at the Frankfurt Autoshow is what has led to its introduction in 2013. Cactus was an essential automotive approach that posed numerous questions: What do car buyers expect from cars today? And which features and equipments count most?
This exercise pushed designers and engineers to make changes. The outcome, the Citroen Cactus.
Engine & Motor
The car is equipped with a new hybrid motor that combines a tank of compressed air with a traditional petrol engine. The new hybrid motor has the ability to run for a few kilometers on nitrogen that's compressed by acceleration and braking.
It has a motor and a pump fitted under the bonnet that can perform without help from the petrol engine, and doesn't require heavy battery packs.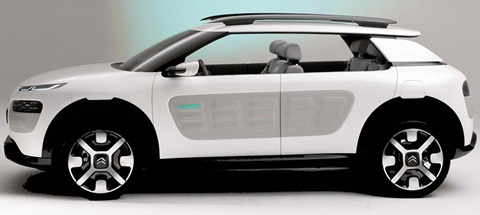 Exterior
The Cactus wears a built-in bubble wrap suit. The grey lumps on the front, rear and side, are known as Airbumps.
They are air pockets designed to absorb low-speed effects without scratching the body, or hurting pedestrians. The Cactus concept also features Citroen's floating roof as well as shark fin pillars that can be spotted on current cars such as the DS3.
Interior
The front seats are made sofa-style for extra comfort and warmth. The added comfort is delivered via a panoramic roof which is thermally treated to allow light to pass through.
It protects the occupant from UV rayss with the technology similar to that utilized for category 4 sunglasses.