The 2012 Citroen Numero 9 Concept car is a fresh, more radical take on some of the automotive experiments undertaken on the DS range, a line marketed alongside the main Citroen line. The DS line, consisting of the DS3-DS5, just two years after the launch, has sold over 200,000 units.
The Numero 9 is expected to herald the DS line's future and indicate the type of styling that we should be expecting from the next three cars to appear in the DS line: the premium C-segment Sedan, executive D-segment saloon and an SUV.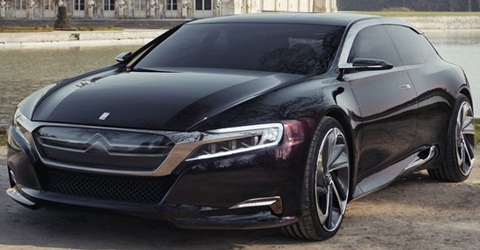 Like others in the DS line, the Numero 9 exhibits radical design choices that are immediately recognizable, sophisticated and inspiring. The body styling is extremely charismatic and the car itself includes a number of extremely useful everyday features as well as some remarkable performance statistics (39g/km carbon footprint, 50km range and 295bhp).
Dimensions
Coupe and estate proportions are subtly combined in the Numero 9, with a long bonnet, taut lines and low stance of 1.27m tall. Generous proportions are also provided in the interior, creating a comfortable driving and passenger experience.
The Numero 9 is 1.94m wide, with a wheelbase of 3m and a length of 4.9m. These dimensions have the advantage of being able to offer passengers extra leg room for rear passengers and also give the car an inviting, roomy look.

Plug In Hybrid
The plug in hybrid technology in the Numero 9 is in keeping with Citroen's extensive eco-friendly policies. The hybrid drive train features an electric motor in the rear, a simple yet innovative configuration that optimizes traction and handling while limiting emissions and fuel consumption.
Other features that add to the efficiency of the Numero 9 concept car include a rear spoiler, windscreen pillars that contribute to air flow and wheels with integrated fins that reduce turbulence and fuel consumption while increasing flow around the arches.
Specifications
General Info

| | |
| --- | --- |
| Vehicle Type: Super Sport Coupe Hybrid | Est. Market Price: NA |
Performance

| | |
| --- | --- |
| Engine: 4 Cylinder Hybrid | Displacement: 1.6 liter |
| Horsepower: 295 HP | Torque: 350 lbs-ft |
| 0-60 mph: 5.4 seconds | Top Speed: NA mph |