The 2008 Caterham RST-V8 is a high performance British Sports car.
The body of the car weighs less, as a result the car delivers high performance. The price of the car is about £115,000 and it features the latest electronics such as traction and launch control.
The Caterham RST-V8 features a Supercharged 2.4 L V8 engine with a capacity of 2400 cc. The engine delivers an output power of 550+ bhp at 10,000 rpm and 300 lb-ft torque at 8500 rpm. The Caterham RST-V8 reaches the speed of 60 mph in less than 3 seconds and the top speed is about 150 mph. The Caterham RST-V8 features 6-speed sequential transmission and the gear shifts can be performed relatively easy at higher speeds.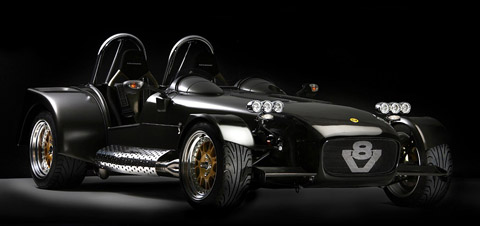 The interiors are mostly finished in carbon fiber and it features the sporty steering wheel and the Kevlar seats.
Specifications
Vehicle Type: 2-door sports car
Configuration: Front Engine
Engine: Supercharged 2.4 L V8
Capacity: 2400 cc
Power: 550+ bhp at 10,000 rpm
Torque: 300 lb-ft at 8500 rpm
Transmission: 6-Speed Sequential
Weight: 1145 lbs
0-60 mph: less than 3 seconds
Top speed: 150 mph