The Cadillac XLR-V is a high performance two door luxury roadsterxds.
The Cadillac XLR-V is well known for its latest technology features and its stunning design. The body of the Cadillac XLR-V is made of aluminum and it features a powerful engine, Magnetic Ride Control and Adaptive Cruise Control.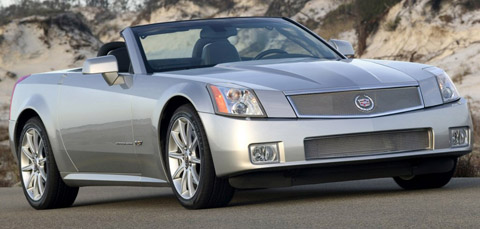 The Cadillac XLR-V is the first vehicle in the world to feature the Magnetic Ride Control. This system is electronically operated where it uses displacement sensors on all the wheels and it measures the wheel motion and adjusts the shock absorbers according to the road conditions and speed of the car.
The Cadillac XLR-V also features Adaptive Cruise Control which makes use of a radar sensor for detecting the vehicles or objects on the way. The Adaptive Cruise Control system adjusts the vehicle speed and maintains some distance when a vehicle is detected and this system can be set according to the speed of the car.

The Cadillac XLR-V consists of a retractable aluminum hard top. This hard top is operated by a touch of a button and it can be opened or closed in just 30 seconds.
The Cadillac XLR-V features a supercharged V8 engine with a capacity of 4371 cc. The engine delivers an output power of 443 bhp at 6400 rpm and 414 lb-ft torque at 3600 rpm. The Cadillac XLR-V features Hydra-Matic six speed automatic transmission with Driver Shift Control where the gear shifts can be performed easily and smoothly at higher speeds.
The exteriors feature the retractable hard top and vertical headlamps. The interiors feature the cooled seats, stylish steering wheel, navigation system, hidden antenna, 7-inch color touch screen, DVD navigation system, XM Satellite Radio, Bose audio system with nine speakers and six-CD dash changer.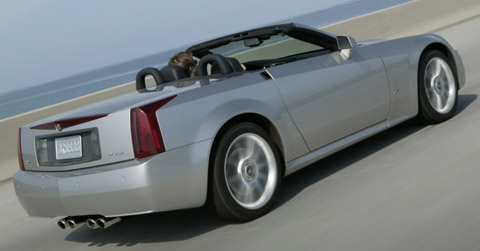 Specifications
Vehicle Type: – 2-door convertible
Configuration: – Front Engine
Engine: – supercharged V8
Capacity: – 4371 cc
Power: – 443 bhp at 6400 rpm
Torque: – 414 lb-ft at 3600 rpm
Transmission: – 6-Speed Automatic
Wheelbase: – 105.7 inches
Length: – 177.7 inches
Width: – 72.3 inches
Height: – 50.4 inches
Weight: – 3804 lbs
Review of the 2006 Cadillac XLR-V