The Cadillac STS is a high performance four door luxury car.
The Cadillac STS is well noted for its outstanding performance, luxury features and the stylish body structure.
The Cadillac STS features a 4.6 L V8 engine with cylinder heads, four valves per cylinder and aluminum block. The engine features electronic throttle control which allows the engine to deliver high performance. It also features catalytic converters, air induction system, communication system and powerful engine control module with 16-bit, 24 MHz dual microprocessor that allows the engine to deliver its maximum efficiency.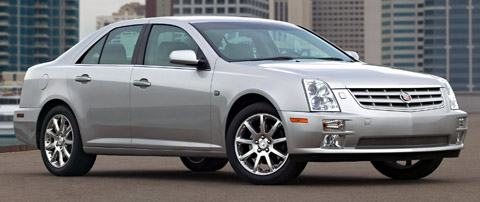 The capacity of the engine is 4565 cc and it delivers an output power of 320 bhp at 6400 rpm and 315 lb-ft torque at 4400 rpm. The Cadillac STS features five speed automatic transmission which is electronically controlled. This transmission features Performance Algorithm Liftfoot technology and Driver Shift Control and the gear shifts can be performed easily and smoothly at higher speeds.

The Cadillac STS features an optional 17-inch seven spoke or 18-inch nine spoke wheels with rotors and high performance calipers.
The exteriors feature the vertically stacked headlamps, airfoil grille, signature CHMSL grille and LED tail lamps which makes use of indirect optics. The interiors are mostly finished with leather and eucalyptus wood and it features steering wheel, Tuscany leather seats and instrument panel.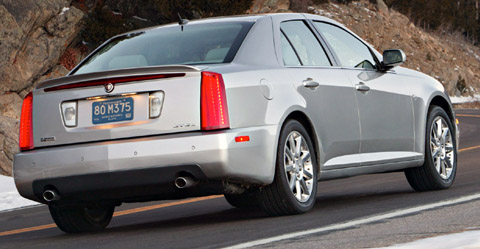 Specifications
Vehicle Type: – 4-door sedan
Configuration: – Front Engine
Engine: – 4.6 L V8
Capacity: – 4565 cc
Power: – 320 bhp at 6400 rpm
Torque: – 315 lb-ft at 4400 rpm
Transmission: – 5-Speed Automatic
Wheelbase: – 116.4 inches
Length: – 196 inches
Width: – 72.6 inches
Height: – 57.6 inches
2008 Cadillac STS Review