The 2008 Cadillac CTS Coupe Concept is a two door coupe with the latest technology features.
The body structure of the Cadillac CTS Coupe is a highlight; it looks like a diamond which is cut at the rear and it displays one of the world's best sporty and muscular looks.
The Cadillac CTS Coupe features 3.6 L V6 engine with a capacity of 3600 cc and it delivers an output power of 304 bhp at 6400 rpm. The car features six speed manual transmission and the gear shifts can be done easily even at higher stress.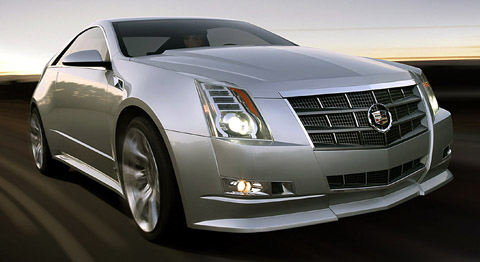 The Cadillac CTS Coupe features sport tuned suspension that ensures comfort and smooth driving. The car consists of aluminum alloy wheels where the front wheels measure 20 inches and the rear wheels measure 21 inches. The wheels feature high performance brakes with six piston calipers on the front wheel and four piston calipers on the rear wheel that ensures safety handling and gripping of the car at higher speeds.
The exteriors feature the stylish diamond cut body structure, headlights and taillamps. The interiors are mostly finished with microfiber, leather and yellow ochre color. The interiors features the hand cut instrument panel, 40 GB hard drive, navigation system, XM Satellite Radio and the yellow ochre color seats.


Specifications
Vehicle Type: – 2-door coupe
Configuration: – Front Engine
Engine: – 3.6 L V6
Capacity: – 3600 cc
Power: – 304 bhp at 6400 rpm
Transmission: – 6-Speed Manual
Introduction of the Cadillac CTS Coupe Concept