Cadillac carries over their philosophy of art and science into the automotive world by taking an innovative approach to ultra-light vehicle production. This is reflected in the Cadillac Aera, a 1000 lb, 2+2 touring coupe that is both attractive yet high performing and safe.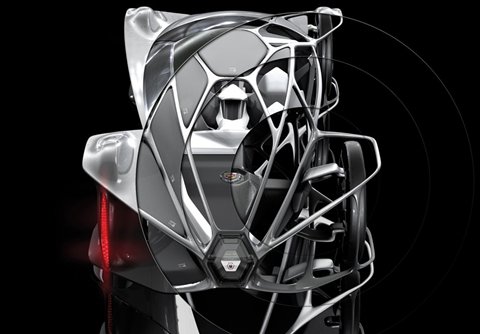 Optimal structure and motor efficiency is what the Cadillac Aera is all about, with its sophisticatedly designed body and the Cadillac Pneumatic Drive System. The body is a 3D lattice, mono made of a unique, semi-solid, and alloy-forming freeform that creates a strong and lightweight frame. The Pneumatic Drive System, on the other hand, is a quiet and smooth engine that uses compressed air to deliver power and speed, and it is capable of storing up to 10,000 psi composite air to give the car a 1000 mile range capability before refueling.
Additional features of the Aera include the All-In-One (AIO) wheel system that combines rotary actuator propulsion, suspension and steering, a drive by wireless system to decrease electrical parts mass and a vehicle to vehicle (V2V) communication to promote active driving safety.