The 2009 Cadillac CTS-V is a four door high performance luxury and sports car.
The Cadillac CTS-V features Magnetic Ride Control, suspension technology, electronic sensors on all the wheels, Traction Management System and shock absorbers which is being managed by electro-magnets. The Traction Management uses modern electronic methods for the controlling the engines torque at higher acceleration.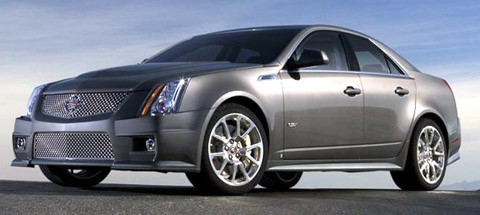 The Cadillac CTS-V features a 6.2 L LSA Supercharged V8 engine with a capacity of 6162 cc. The engine delivers an output power of 550 bhp at 6200 rpm and 550 lb-ft torque at 6200 rpm. The Cadillac CTS-V features six speed manual transmission and the gear shifts can be performed easily at higher speeds and stress. Also, there is a choice for either six speed manual or six speed automatic transmission.
The Cadillac CTS-V features 19-inch wheels wrapped with Michelin tires. The car consists of Brembo brakes with six piston calipers on the front wheel and four piston calipers on the rear wheel. It also features the latest braking system that ensures better braking and safety handling of the car at higher speeds.
The interiors feature the navigation system, adjustable seats, sporty steering wheel, Bose digital sound surround audio system, 40 GB hard drive, Bluetooth and pop-up screen.

Specifications
Vehicle Type: – 4-door sedan
Configuration: – Front Engine
Engine: – 6.2 L LSA Supercharged V8
Capacity: – 6162 cc
Power: – 550 bhp at 6200 rpm
Torque: – 550 lb-ft at 6200 rpm
Transmission: – 6-Speed Manual
Wheelbase: – 113.4 inches
Length: – 191.6 inches
Width: – 72.5 inches
Height: – 58.0 inches
Weight: – 4200 lbs
Cadillac CTS V vs. Audi Quattro

Cadillac CTS-V on the Track