Brabus offers its 6.1 S displacement engine for SLK55 AMG. It has a power output of 438 hp and produces a peak torque of 468 lb. per ft. It reaches 0 to 60 mph at 4.2 seconds and has a top speed of 191 mph.
The installation of the Brabus stainless steel sport exhaust system is helpful not only for tuned engines. Its four chrome plated tail pipes give the 2008 Brabus SLK55 AMG a more unique appearance and produce an even more sonorous exhaust sound on all SLK engines.
The striking Brabus front spoiler lowers lift on the front axle at high speeds. The rear of the SLK is upgraded by the Brabus apron with cut outs for the quad sport exhaust and the understated Brabus spoiler lip on the trunk lid. Brabus light alloy wheels are available for the Mercedes SLK in one piece or multi piece designs with diameters of 17, 18 and 19 inches.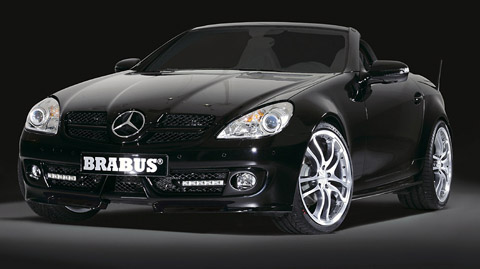 The available Brabus suspension modifications for the SLK are specifically calibrated to the use with sporty wide tires. Engine specific Brabus sport springs lower the ride height of the roadster by 30 millimeters. Brabus sport suspensions combine this lowered center of gravity with a stronger and comfortable damper setup. To reduce body roll even more in fast corners Brabus offers stronger sway bars.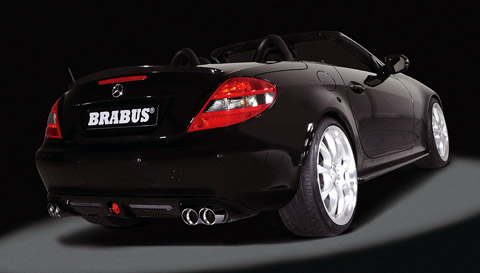 Brabus also offers various versions of high performance brake systems for the new SLK. The largest version features six piston aluminum fixed calipers and 355 mm (14 inches) vented and slotted discs on the front axle. The rear axle is fitted with 300 mm (11.8 inches) discs and four piston aluminum fixed calipers. Special flex steel brake lines ensure continuous high brake pressure.