Powered by a 12-cylinder biturbo engine, the 2011 Brabus Mercedes-Benz G-Class 800 Widestar is capable of producing a rated energy outlay of 800hp. Its Widestar wide-body on 23-inch Platinum Edition Brabus forged wheels sets this powerful off-road vehicle visually apart from other cars in its class, literally.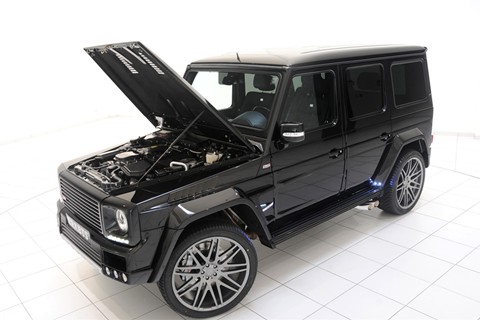 Like other Mercedes G-Class cars, this 5-door beauty is masterfully crafted by hand. All the high-tech components are carefully put together manually, piece by piece. And as in other special models made by Brabus, the 800Widestar is available with a package-full of luxurious apparatus.
The 4-wheel drive 800 Widestar, with its reinforced 5-speed involuntary delivery transmission, can sprint to 62 mph from 0 in 4.0 seconds. With a limiter, the top speed is 149 mph but without a limiter, this off-roader can reach 168 mph.
The 2011 Mercedes-Benz Brabus 800 Widestar comes equipped with the highly-advanced Brabus Ride Control stable cessation for that pure sporty handling and smooth sailing. The magnificent Brabus cessation system involuntarily checks adjustments. When the automated car sensors detect a possible road mishap based on parameters such as speed, parallel acceleration and steering angles, the car automatically switches to a safe driving mode in a matter of milliseconds.