Brabus is well known for its manufacture of high performance cars with powerful engines in medium sized cars. Also these small cars have been listed in the Guinness Book of World Records for its high performance.
The 2008 Brabus Bullit is one of the high performance car manufactured by the Brabus. The body of the car is made of aluminum; it is extremely heavy and displays sporty and muscular looks. The suspensions in the car consist of ten adjustable settings that ensure better driving and gripping of the car at extreme driving conditions.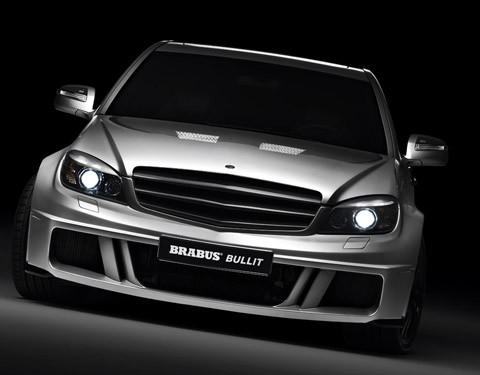 The Brabus Bullit features a Twin-Turbo V12 engine with intercoolers and chargers. The capacity of the engine is 6233 cc, and it delivers an output power of 720 bhp at 5100 rpm and 811 lb-ft torque at 2100 rpm. The Brabus Bullit reaches the speed of 60 mph in 3.8 seconds and the top speed is about 224 mph. The Brabus Bullit features five speed automatic transmission and the gear shifts can be performed easily at higher speeds.
The Brabus Bullit features 19-inch Monoblock S alloy wheels wrapped with specially designed Yokohama tires. The wheels feature disc brakes with 12-piston aluminum calipers that can handle the car even at higher stress. Also it features anti braking system and the specially designed front apron for the cooling of the front brakes.
The exteriors feature the integrated entrance lights and the stylish body structure of the car. The interiors are mostly designed with carbon fibre and leather and it features Nubuk leather seats, sporty steering wheel, dashboard, and air conditioning system.
Specifications
Vehicle Type: – 4-door sedan
Configuration: – Front Engine
Engine: – Twin-Turbo V12
Capacity: – 6233 cc
Power: – 720 bhp at 5100 rpm
Torque: – 811 lb-ft at 2100 rpm
Transmission: – 5-Speed Automatic
Length: – 180.7 inches
Width: – 72.0 inches
Height: – 55.2 inches
Weight: – 4097 lbs
0-60: – 3.8 sec
Top speed: – 224 mph