The 2005 Brabus CLS K8 is a high performance four door sedan.
The Brabus CLS K8 features sporty exhaust system, Airmatic air suspension, electronic suspension, Monoblock alloy wheels and the high performance braking system.
The Brabus CLS K8 features a 5.5 L Supercharged V8 engine lubricated with ARAL Synthetic motor oil. The capacity of the engine is 5500 cc and it delivers an output power of 530 bhp at 6400 rpm and 572 lb-ft torque at 3000 rpm. The Brabus CLS K8 reaches the speed of 60 mph in 4.2 seconds and the top speed is about 192 mph. The Brabus CLS K8 features seven speed automatic transmission and the gear shifts can be performed easily at higher stress.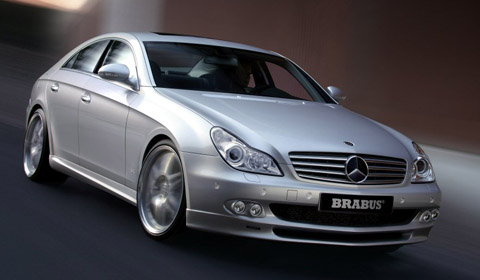 The Brabus CLS K8 features specially designed suspension kits that gives a sporty and comfortable drive. Also this suspension reduces the height of the car by 25 millimeters. The Brabus CLS K8 features striking front spoiler which reduces the front axles lift.
The Brabus CLS K8 features the 20-inch Monoblock alloy wheels wrapped with Pirelli tires. The wheels features SBC electronic brake technology and high performance braking system that safely handles the car at higher speeds.
The exteriors feature the LED and fog lights that give a high intensity of light at all conditions. The interiors are mostly designed with Alcantara and Mastik leather and it features the sporty steering wheel and leather seats.
Specifications
Vehicle Type: – 4-door sedan
Configuration: – Front Engine
Engine: – 5.5 L Supercharged V8
Capacity: – 5500 cc
Power: – 530 bhp at 6400 rpm
Torque: – 572 lb-ft at 3000 rpm
Transmission: – 5-Speed Automatic
0-60: – 4.2 sec
Top speed: – 192 mph