Launched during the 2014 Beijing Motor Show, the 2014 BMW Vision Future Luxury Concept takes modern luxury driven technological innovations and design to a new dimension.
This tech-laden, lightweight concept car heralds the next-generation flagship sedan, a future, next-gen 7-Series or the much-anticipated 9-Series.
Innovative technologies such as the all-new, integrated user interface design and BMW ConnectedDrive services deliver a multifaceted – emotional, athletic and exclusive driving experience that would satisfy customers worldwide.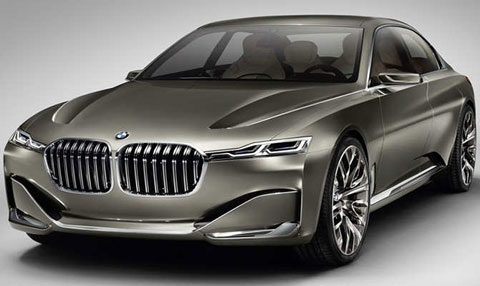 Engine & Performance
The German automaker has not specified details related to the type of engine, motor combinations, battery or powertrain.
The absence of exhaust pipes and an eDrive insignia on its rear suggests some form of plug-in hybrid propulsion is in the making.
Exterior
The hand-sculpted exterior design of the Vision Future Luxury Concept, is a large 2+2 sedan which is characterized by smart lightweight engineering, honed aerodynamics, thanks to the BMW EfficientDynamics features.
The twin headlights incorporate the innovative technology BMW Laserlight, which is up to ten times more intense than LED lights, while L-shaped organic LEDs provide rear lighting, for the first time ever in a BMW vehicle.
The Liquid Platinum Bronze paintwork lends a shimmering, luxurious and refined appeal. The exterior also features drag-reducing sloping boot lid and coupe-style roofline, short overhands, low greenhouse and long wheelbase which exude a sophisticated dynamism.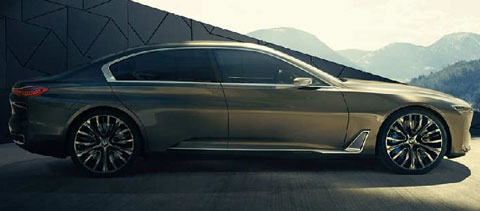 Interior
The hand-finished interior utilizes carbon as an individual material or in combination with other materials (such as aluminum, wood and silk), especially in the door sills, in the pared-down, highly innovative B-pillar which enables wide-opening, Rolls-Royce style coach doors and under the seats, thus allowing the seat frames to be integrated into the structure.
A wrap-around cluster of three displays featuring 3D technology surrounds the driver. The programmable center display presents rev counter, speedometer and context-adaptive additional data when relevant.
The Driver Information Display, which is the right-hand display provides supplementary infotainment information and is controlled via a simplified touch-sensitive interface, while the left-hand display provides car-related information.
The BMW Vision Head Up Display enhances the drivers view of the real-world environment while giving a new dimension to driver assistance functions such as the Traffic Light Assistant and Speed Limit Info.
Front passengers benefit from their own Passenger Information Display, while the back-seat passengers have a detachable touch command tablet that displays driving information, controls the infotainment features via iDrive control in the center console and can also access the ConnectedDrive Concierge Services.