The 2013 G-Power-BMW-M3-RS has been created with the intention of making the car more powerful and lighter. To achieve this, G-Power decided to give the M3 a full carbon-fiber treatment.
This did not only make the M3 RS lighter and powerful, but also increased its aerodynamic performance. G-power will also be offering the M3 in a choice of multiple drive-train modifications from one that generates 520 horsepower up to an engine that produces 720 hp.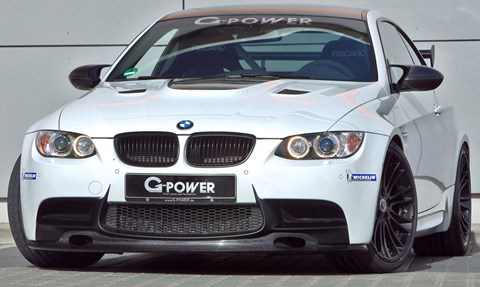 Specifications
General Info

| | |
| --- | --- |
| Vehicle Type: Super Sport Coupe | Est. Market Price: NA |
| Fuel Tank Capacity: 16.6 gallons (63L) | MPG: 9 city / 16 hwy |
Dimensions**

| | |
| --- | --- |
| Length: 181.7 in. (461.5 cm) | Wheelbase: 108.7 in. (276.1 cm) |
| Height: 56.0 in. (142.4 cm) | Width: 77.8 in. (197.6 cm) |
| Curb Weight: 3704 lbs (1680 kg) | Maximum Seating: 2+2 |
Performance

| | |
| --- | --- |
| Engine: 4.0 Liter V8 | Horsepower: 720 HP |
| Torque: NA | Transmission: 6-Speed Manual |
**Stock dimensions
Engine
You will be given your choice of engine options to choose from. The first option is an SK-I Sporty Drive TU that produces 520 horsepower. The second system is the SK II Sporty Drive TU that generates a respectable 580 horsepower.
The third is an SK II CS Sporty Drive TU that belts out 610 horsepower. If you still find all the three options still timid for you, then you can go for the most powerful one: the SK III Sporty-Drive-supercharger that makes a staggering 750 horsepower.
The SK II comes with an ASA-T1-723 supercharger to match with a displacement enhancement of 4.6 liters from 4.0 L. This accounts for the 300 power spike from the 420 hp output of the standard model.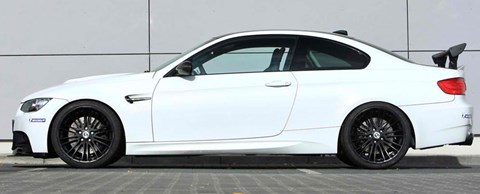 Exterior
G-Power also made sure that the exterior will compliment the overall performance of the car. They added a new bonnet, rear wing, a boot and front spoiler all made from carbon-fiber. In particular, the new front spoiler makes more down-force on the front-axle, while the boot lid improves the down-force on the rear-axle.
The new bonnet which G-power calls Venturi bonnet, removes heat from the drive-train compartment as fast and efficiently as possible.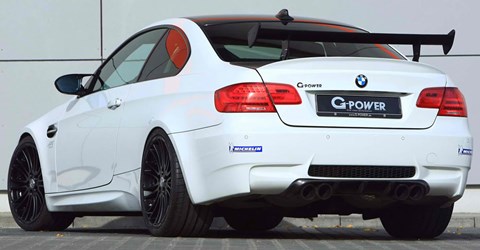 Interior
The 2013 G-Power M3 RS's interior doesn't seem to have any new additional features or upgrades. In fact G-Power did not give any details on the interior when they glowingly talked about the performance and aero enhancements of the G Power M3.
There is no doubt that the 2013 G-Power-BMW-M3-RS will get anyone's attention. Surely, if this car blazes past you, you just may get a glimpse of it. It's just a powerful car with great aero upgrades that will attract the attention of many fans and enthusiasts.