The 2013 G-Power BMW G1 V8 Hurricane RS is a modified version of the BMW 1 M Hurricane and the latest vehicle to be customized by G-Power.
G-Power is the leading supplier of supercharger systems for BMW engines, and has tailor-made the supercharger for the M3 engine. They have mounted the centrifugal supercharger from ASA, the T1-523, directly on the engine.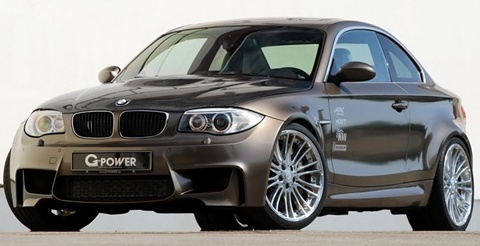 Specifications
General Info

| | |
| --- | --- |
| Vehicle Type: Super Sport Coupe | Est. Market Price: NA |
| Fuel Tank Capacity: 14 gallons (53L) | MPG: NA |
Dimensions*

| | |
| --- | --- |
| Length: 172.2 in. (437.3 cm) | Wheelbase: 104.7 in. (265.9 cm) |
| Height: 55.9 in. (141.9 cm) | Width: 71 in. (180.3 cm) |
| Curb Weight: 3362 lbs (1525 kg) | Ground Clearance: NA |
| Luggage Capacity: 10.0 cu ft | Maximum Seating: 2+2 |
Performance

| | |
| --- | --- |
| Engine: Supercharged V8 | Displacement: 4.0 Liter |
| Horsepower: 600 HP | Torque: 428 lb-ft |
| Transmission: 6-Speed Manual | Top Speed: 205 mph (329 km/h) |
*Stock specs
Engine & Performance
G-Power has replaced the standard BMW M1 engine and gearbox with the engine and gearbox from the BMW M3 that are bigger than those in the M1 model. In addition, they modified the M3 engine, and the end result is a supercharged engine that generates up to 600 horsepower, 428 pounds-feet of torque and can achieve a top speed of more than 205 mph, making it the fastest car in its class. From a standing start, the car can reach 125 mph in just under 13 seconds.
Supercharger
The supercharger features an air box manufactured from cast aluminum. This houses a large air filter along with a water based cooling system that allows the supercharger to function at optimal temperature.
The net result of fitting the supercharger to the engine is an increase of 40% in torque. The system also results in the engine running efficiently, thereby reducing fuel consumption.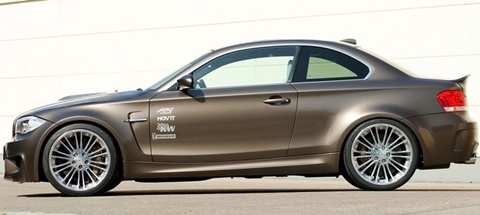 Braking & Suspension
Capable of astonishing speed, it is vital to ensure that the tires, suspension and braking performance of the BMW G1 V8 Hurricane RS are able to cope with all that power.
G-Power opted for Pilot Super Sport tires developed by Michelin, its technology partner, and sourced its braking system to Movit.
The company worked closely with KW to develop a suspension package it calls Clubsport, specifically designed for the G1 V8 Hurricane RS. The task was to come up with a package that allowed for comfort and stability in normal driving conditions while at the same time providing the stability, comfort and control required on a race track, and they have succeeded in doing this in the 2013 G-Power BMW G1 V8 Hurricane RS.