The 2012 G-Power BMW 1M Coupe is closely related to the BMW M3, and in fact shares the same rear and front axles.
The 1M Coupe boasts a new exhaust system, which is 20% lighter than the typical one since it is made from titanium.
The 1M also comes with an upgraded engine for better performance.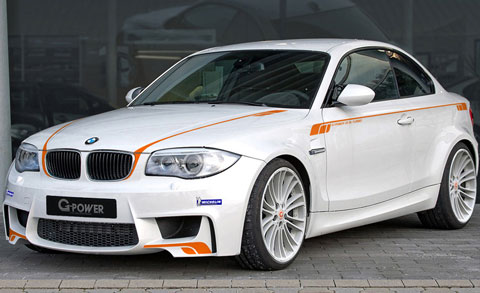 Specifications
General Info

| | |
| --- | --- |
| Vehicle Type: Super Tuned Coupe | Est. Market Price: NA |
| Fuel Tank Capacity: 14.0 gallons (53L) | MPG: NA |
Performance

| | |
| --- | --- |
| Engine: Inline-6 | Displacement: 3.0 Liter |
| Horsepower: 435 HP | Max RPM: 6000 rpm |
| Torque: 435 lb-ft @ 1500 rpm | Transmission: NA |
| 0-60 mph: 4.5 seconds | Top Speed: 186 mph (299 km/h) |
Engine
The G-Power BMW 1M Coupe features a 4.0L V8 engine that produces 435 horsepower at 6,000 rpm and 435 lb-ft of torque at 1,500 rpm. Although the general output is remarkable, it is the execution of this output which can be said to be so outstanding. The supercharger is perfectly tuned to generate 40% extra torque between 5000 rpm and the car's maximum 8,300 rpm.
This power plant is connected to a 7-speed dual clutch gearbox, enabling the 1M Coupe to reach 136.7 mph in 12.7 seconds and achieve a maximum speed of 205.05 mph. This car is brought to a halt though a G-Power brake system, which uses 15.59-inch carbon-ceramic brake discs up front.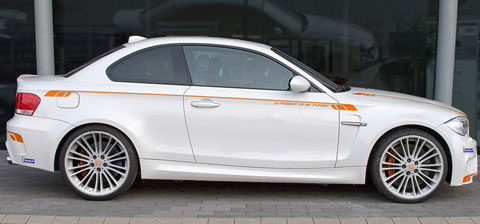 Exterior & Interior
The exterior, which comes with a deep bronze coat, features 20-inch G-Power Silverstone wheels wrapped with Michelin tires. The rear boot lip and the hood are made of carbon fiber material with the boot boasting vent openings and M3 design.
The interior receives some tweaks too, adding draping layers of Alcantara and premium leather, while the cushions have been reshaped to give the seats more style and grip. The 1M Coupe boasts a 2-tone arrangement of white and bronze, giving the interior an outstanding contrast that goes perfectly well with the external color.
In general, it can be said that G-power did an excellent job by taking an already stylish car and tweaking it to a classier car. Although the exterior did not receive many modifications, the interior has been well tweaked to compensate for that. The increased power output will also put this car a step further from its closest rivals.