It is no secret that the BMW M3 is one spectacular vehicle. But for the people that still want more out of their sports cars, tuner shops are all over the place to make them even more ferocious.
Style & Power
G-Power is already known for tuning M3s (the prime example being the G-Power M3 GTS complete with 635 horsepower), it seems that they have more tricks up their sleeve. Their newest M3-based creation is the 2011 G-Power BMW M3 Tornado RS, is going to take the M3 into supercar killing territory.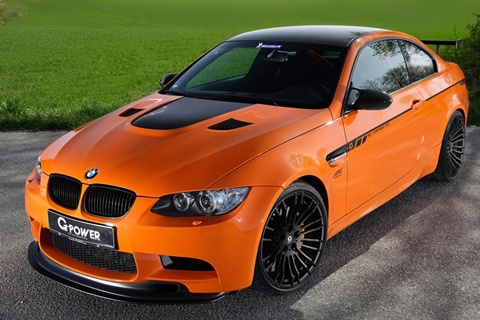 While the G-Power M3 GTS is already a super strong race-ready road car that can take on just about anyone, the G-Power M3 Tornado RS is much, much better. This car is equipped with G-Power's top of the line ASA T1-723 supercharger. Forged pistons co-created with Mahle and a modified crankshaft that increased the V8's displacement to 4.6 liters are some of the modifications made to make the engine ready for this supercharger.
A carbon fiber airbox that is 8kg lighter than the stock aluminum airbox, and a customized cooling system allows the V8 engine to keep its cool even under intense pressure. All these modifications pile up to create a maximum output of 720 horsepower, enough for a zero to 200 kilometers per hour acceleration time of less than 10 seconds.
Exterior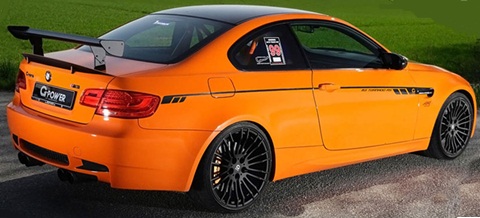 Its body shell, modified by multiple carbon fiber bits that lowers curb weight and improves aerodynamics, is a sight to behold too, and only adds up to the edge of this vehicle. Ceramic brakes aid in stopping even during super high speeds, and 20 inch wheels give this supercar legs. No matter what your definition of the supercar is, the G-Power BMW M3 Tornado RS should fit seamlessly.
Specifications
Performance

| | |
| --- | --- |
| Engine: Supercharger V8 | Displacement: 4.8 Liter |
| Horsepower: 720 HP | Torque: 516 lb-ft |
| 0-60 mph: 3.7 seconds | Maximum Speed: 205 mph (329.8 km/h) |