The G-Power manufacturing company is renowned for producing impressive cars in limited editions. Their objective is to produce the strongest and fastest BMW in the world while delivering 100% customer satisfaction. The latest masterpiece that the G-Power company has worked on is the 2010 G-Power BMW 760i Storm.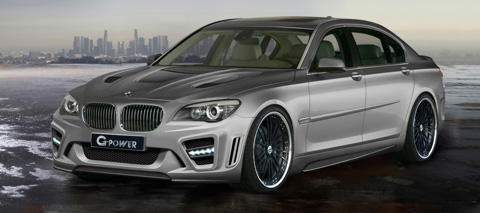 G-Power aims to enhance the performance of the BMW vehicle without compromising the sleek luxury and overall segment of the vehicle. Engineers at G-Power company worked at the heart of the car's 6.0-liter V12 engine and modified it to deliver an output of an impressive 725 hp and a torque of 1000 Nm. The car was fitted with new exhaust systems and larger valves to help the car cope better with the modifications. The 8-speed transmission was also reinforced and the car's Engine Control Unit (ECU) was reprogrammed to ensure that everything works harmoniously. With the enhanced performance of the Storm, the car can easily move from 0 to 100 km in 4.2 seconds and 0 to 200 km in 11.9.
The G-Power company also designed an aerodynamics kit for the Storm which improves the supply of cold air to the cooling water and oil coolers thanks to the enlarged inlets and vent holes in the front skirt and bonnet.