The BMW 335 is a sports car manufactured in between the years 1939-1941.
The BMW 335 was launched following the success of BMW 326 in the year 1936. The BMW 335 contained the same features of BMW 326 and the only changes compared to BMW 326 are the BMW 335 featured a new six cylinder in-line engine with a capacity of 3485 cc, extended chassis and wheelbase.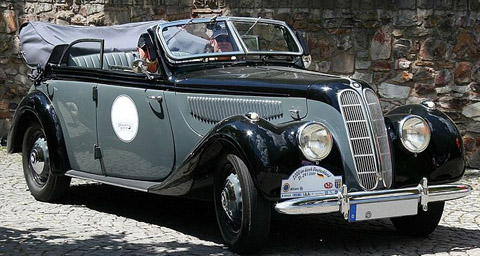 BMW 335
Photo by:
Spurzem
,
Creative Commons
The BMW 335 featured large drum brakes on all the wheels and it is also the first car to feature four speed manual transmission.
The BMW 335 consisted of a Straight-6 OHV engine that was fed by Solex carburetor. The capacity of the engine is 3485 cc, it delivered an output power of 90 bhp at 3500 rpm and the top speed is about 90 mph.
Specifications
Vehicle Type: sports car
Configuration: Front Engine
Engine: Straight-6 OHV
Capacity: 3485 cc
Power: 90 bhp at 3500 rpm
Transmission: 4-Speed Manual
Wheelbase: 117.3 inches
Length: 190.6 inches
Width: 66.9 inches
Height: 66.5 inches
Weight: 2866 lbs
Top speed: 90 mph