Bentley introduces the topless version of its Continental GT V8 in the Continental GTC V8, to join its line-up of cars to be launched this year.
The Continental GTC sports the same powerful V8 engine like its hard-top sibling which has been tuned to be a lot more frugal the previous generation.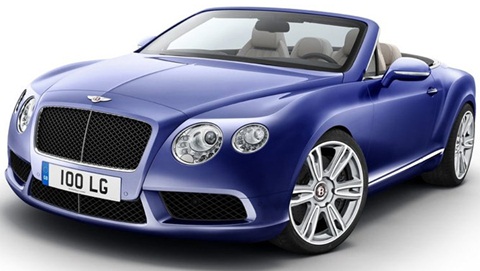 Specifications
General Info

| | |
| --- | --- |
| Vehicle Type: Coupe | Base Price: $232,700.00 |
| Fuel Tank Capacity: 24 gallons (90 liters) | Miles Per Gallon: 14 city / 24 hwy |
Dimensions

| | |
| --- | --- |
| Length: 189 in. (480.6 cm) | Wheel Base: 108 in. (274.6 cm) |
| Height: 55 in. (140.3 cm) | Width: 75 in. (194 cm) |
| Curb Weight: 5445 lbs (2470 kg) | Ground Clearance: NA in. (254 cm) |
| Luggage Capacity: 9.1 cu ft | Maximum Seating: 4 people |
Performance

| | |
| --- | --- |
| Engine: V8 Twin Turbo | Displacement: 4.0 Liter |
| Horsepower: 500 HP | Max RPM: 6000 RPM |
| Torque: 487 lb-ft @ 1700 rpm | Transmission: 8-Speed Automatic |
| 0-60 mph: 4.7 seconds | Maximum Speed: 187 mph (301 km/h) |
New Design
The Continental GTC is identical to its hard-top sibling, barring its light-weight convertible roof. Both the V8 models feature the 'B' emblem with red wings. Glossy black front grille differentiates the V8 models from the W-12 ones. The V8 GTC carries the same muscular elegance of the W-12 models with characteristic wide rear track, powerful haunches and aggressive low stance.
Performance
The Bentley Continental GTC comes with a 4.0 litre V8 engine which churns out 500hp and 487 pound-feet of torque. The car does 0-60mph run in less than 5 seconds. The performance is almost equivalent to the Continental GT W-12 model. Not only is the car powerful, the engineers have managed to bump up the efficiency of the engine by 40% as compared to the old W-12.
To achieve this level of efficiency, the engine is designed to switch-off values of 4 out of 8 cylinders when the driver is maintaining a steady cruising speed. The engine switches back to V8 mode from V4 when the throttle is pressed harder. An intelligent Engine management system (EMS) works behind the scene to manage incredibly high level of precision in control of combustion process.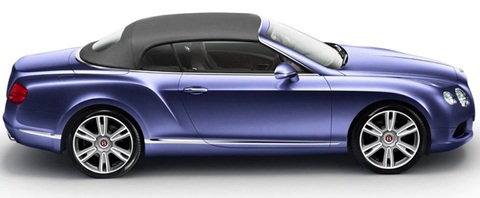 Transmission
The new 8 speed automatic transmission also contributes to the efficiency gain of the V8. Greater number of ratios makes sure that the engine is always at its most efficient shifting.
The Bentley Continental GTC V8 carries on the positives of the previous generation models, but with a much more efficient engine and vehicle dynamics. This open-top beauty is not just a great looker, but beneath the skin it's a highly efficient vehicle as well.