An enduring testament of the English automobile manufacturers prominence in the elite supercar arena and a celebration of world rally champion Juha Kankkunen's world ice speed record in a Bentley Continental Supersports convertible, the Continental Supersports Convertible ISR is the most avant-garde and powerful Bentley convertible by far.
The 'Ice Speed Record' (ISR) Continental Supersports is an exceptional sports car that truly resonates Bentley's characteristic ethos. With excellence in performance, handle dynamics, and trendy flamboyance, the Supersports Continental Convertible ISR doesn't, however, compromise class, handcrafted design and passenger comfort.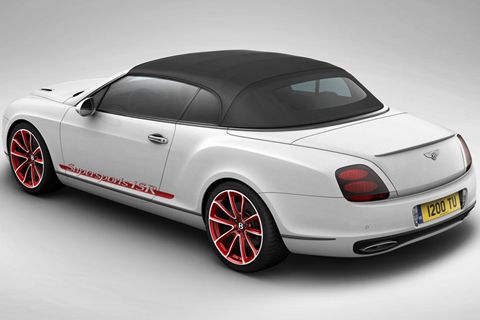 Launched at the 2011 Geneva Show, the new convertible has sent the entire auto world abuzz—glorified no doubt because of the 'Ice Speed Record' convertible's ability to sprint from 50-75 (80-120 km/h) in merely 2.5 seconds under real world conditions. The new convertible is off to a promising start, starting from under the hood: a 6-liter, W12 turbo-charged engine capable of churning 640 PS (471 kW / 631 bhp) combined with a six-speed Quickshift automatic sports car transmission propels the Continental Supersports Convertible ISR from 0-60 mph within 3.8 s (0-100 km/h within 4 s) and achieves 100 mph from a standing start in just 9.5 s (0-160 km/h within 9.4 s).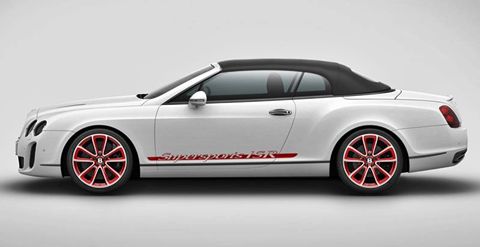 The 'Ice Speed Record' model doesn't fail to impress with its interior features as well: a carbon fiber with red weave high-gloss finishing and the most exquisite leather and Alcantara cabin components. The Supersports Continental Convertible ISR, which comes in three colors, has an estimated priced of £189,300 ($ 309,022 USD) and available at authorized Bentley automobile dealerships.