The world ice speed record was shattered on 15 February 2011 in Oulu, Finland by rally champion Juha Kankkunen. Achieving a top speed of 205.48 mph, Kankkunen broke his previous world record of 199.83 mph set in 2007 at the same location.
Kankkunen shattered the previous world record that he also set, in a 12 cylinder, 6 liter Continental Supersport Convertible running on E85 bio-ethanol. The fuel selection was largely due to Bentley's commitment for a cleaner environment and sustainable fuel sources.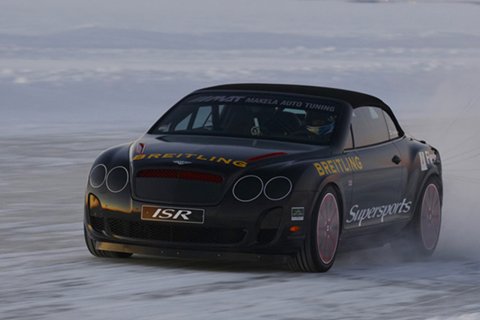 Juha Kankkunen managed to overcome the perilous endeavor with the help of Bentley engineers and his own experienced team. Kankunnen and the team faced temperatures of minus 30 degrees, sudden snow blizzards and dangerous crosswinds to set the new world record on a 16.5 km track sitting on 70 centimeters of sea ice.
Only minimum modifications were made on the Continental Supersport Convertible. The team added a rear bumper mounted parachute and a fully welded heavy duty safety roll-cage to ensure the safety of Kankkunen in emergency situations. The run was done on Pirelli SottoZero II 275/40R20 winter tires.
Bentley will only offer a limited edition of 100 units of this extreme model Continental. The car will be launched at the Geneva Motor Show on the 1st of March.