A TDI's model from Audi, a different dynamic power unit combined with a rich source of driving experience. At the 27th Lake Wörther, it is held in the Austria province of Carinthia from May 21-25. Audi is powered by an engine delivering a whole 165 kW (224 hp) from its displacement of two liters. Equipped with a torque of 450 Nm (331.90 lb-ft), it is pronounced as a sports car. The Audi A3 qualifies as the top contender for technical respects for other companies, fixed with a six-speed transmission channels.
All-wheel drive, 20-inch wheels to keep the four wheels to the ground, with a break disks designed from carbon-fiber-reinforced ceramic. This drive selects driving dynamics system letting the driver adjust the throttle response. The interior has a racing bucket seat in the front and opens up with an aluminum gear lever gate. The design team has decked out the Audi A3 TDI club sport Quattro with a whole new exterior parts to show off a new look. The Audi A3 TDI has a tail for a sporty kind of view.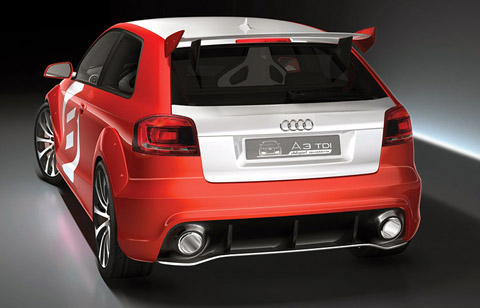 The Audi has a comfortable atmosphere with special foam to fit any kind of person into the seats. It summits up to an output of 165 kW (224 hp). The torque heightens to an amazing 450 Nm (331.90 lb-ft) which is 1,750 rpm. It is at just 1,475 kilograms, with power as a sports car. The Audi can reach 0-60 mph in 6.5 seconds, with top speeds of 149 mph. I would encourage people to get this light-weight car, plus it adjusts to the person's needs.