The Audi 80 B2 version was launched in the year 1978 and its production ended in the year 1986.
The B2 was designed by Giorgetto Giugiaro, an Italian automobile designer. The first model cars consisted of a four cylinder turbo-diesel engine that delivered an output power of 85 KW and five cylinder petrol engines that delivered an output power of 100 KW.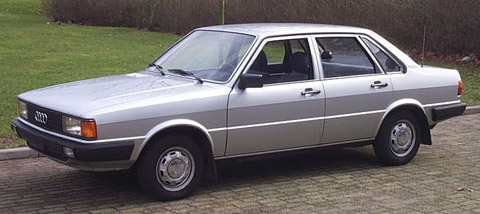 In the year 1983 the "Sports 80" version has been launched in the United Kingdom. It featured the chin interior, rubber rear spoiler, Recaro interiors, and body graphics. In the year 1984 some modifications have been done which included the headlights, taillights, rear bumpers and facelift.
Specifications
Vehicle Type: – 2-door saloon, 4-door saloon and 2-door coupe
Configuration: – Front Engine
Engines
Petrol engines: -1.3 L I4, 1.6 L I4, 1.8 L I4, 2.0 L I5 and 2.2 L I5
Diesel engines: – 1.6 L TD I4
Transmission: – 3-Speed Automatic, 4-speed manual and 5-speed manual
Pictures of Audi 80 B2