The new 2013 Audi R8 e-tron Concept car is powered by an electrical drive system, which marks a new chapter in electric vehicle driving.
At the moment, it is a concept car but could be here sooner that you think.
Audi continues to venture into unknown territory, they are not afraid to try just as they did with the e-tron Spyder concept some years back.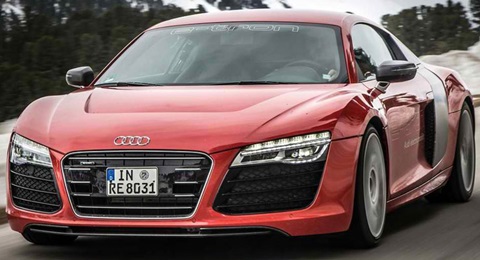 Specifications
General Info

| | |
| --- | --- |
| Vehicle Type: Electric Coupe | Est. Market Price: NA |
Dimensions

| | |
| --- | --- |
| Length: 167.7.6 in. (426 cm) | Wheelbase: NA |
| Height: 48.4 in. (123 cm) | Width: 74.8. (190 cm) |
| Curb Weight: 3924 lbs (1780 kg)** | Ground Clearance: NA |
| Luggage Capacity: NA | Maximum Seating: 2 |
Performance

| | |
| --- | --- |
| Battery: 48 kWh | Range: 134 miles (215 kms) |
| Horsepower: 380 HP | Torque: 605 lb-ft |
| 0-60 mph: 4.2 seconds | Top Speed: 124 mph (200 km/h) |
** e-tron actual weight with battery
Motor
So much attention is paid to how Audi R8 e-tron is powered to make it energy-efficient. The four wheel drive of the car is propelled by 4 electric motors which allow it a range of 154 miles.
The battery has the potential to recharge both when moving and when stationary. In addition, it uses an electronic brake system that enables it to convert all its energy into electricity and recover them while braking.



Performance
Audi claims that R8 e-tron as a super car, which can cross 0-62 mph in just 4.2 seconds. Its incredible looks with 3330 lb ft of torque and 308 horsepower makes the performance of the e-tron a super car in the electric car segment.
This car does not come fitted with an oil cooler, nor does it require air intake.
Exterior & Interior
For increased performance, the concept car uses lithium ion cell technology, thereby reducing the total weight too. It is a mid-engine car of 48.4″ tall, 167.7″ long and 74.8″ wide.
The cabin is shifted towards the front axle of the car thus leaving enough space for the inverter, battery, and other power electronics.
The Audi R8 e-tron interior features elegant soft leather, CFRP surfaces, and Alcantara covers. One innovative feature in this series is the digital mirror.
Weight
Another important feature essential for electric cars is its light weight construction. Audi engineers constructed the e-tron body based on ASF (Audi Space Frame) technology in its hybrid construction.
Reinforced plastic was used to make all add-on parts of the car such as roof, side walls, covers, and doors to enhance the performance from power system.