The 2013 Audi Nanuk Quattro Concept can be described with one word, sporty.
It is truly one of the best rendering of a sports car, with the looks of a super car to boot.
This is a mid-engine sports car that offers a great driving experience, top notch performance, extreme luxury, and versatility.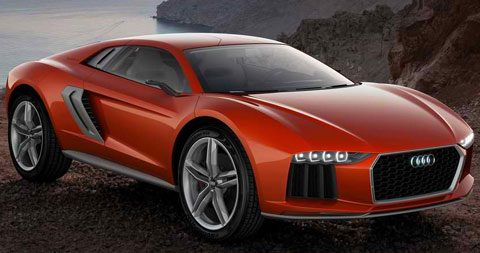 Specifications
General Info

| | |
| --- | --- |
| Vehicle Type: Coupe Diesel | MPG: 36 combined |
Dimensions

| | |
| --- | --- |
| Length: 178.8 in. (454.2 cm) | Wheel Base: 106.7 in. (271 cm) |
| Height: 52.6 in. (133.6 cm) | Width: 78.4 in. (199.1 cm) |
| Curb Weight: 4189 lbs (1900 kg) | Maximum Seating: 2 people |
Performance

| | |
| --- | --- |
| Engine: V10 TDI | Displacement: 5.0 Liter |
| Horsepower: 544 HP | Max RPM: NA |
| Torque: 738 lb-ft @ 1500 rpm | Transmission: 7-Speed S Tronic |
| 0-60 mph: 3.8 seconds | Maximum Speed: 190 mph (306 km/h) |
Engine & Performance
The Nanuk Concept is not just about looks. There is a lot to talk about when it comes to its performance.
It is described by many as being a high-performance sports car in any type of terrain, be it on the road, off-road or on a race track. This model comes with a powerful V10 5.0 liter diesel engine.
It is capable of going from 0 to 62 mph in 3.8 seconds to go with its top speed of 190 mph.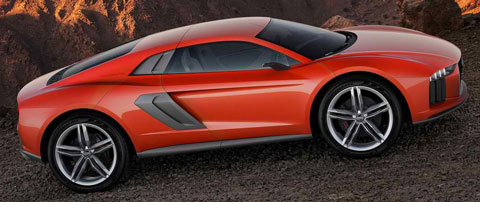 Exterior
Besides having a unique, dynamic sports look, this car definitely draws one's attention because of its large wheels. The front is flat and the grille is quite simple when compared to other models which tend to place more emphasis on it.
This car is made visible by its dynamic daytime running lights, the contours of the fenders, the sculpted door, and the large vertical side blade behind the door opening. The rear can be flipped upward along with the rear window which allows you a view of the TDI engine.
Interior
The interior is driver-oriented. The center of attention is undeniably the instrument cluster. These are programmable and the driver can easily call up various displays to request specific information on screen.
The use of fine mineral gray leather colored upholstery highlighting the luxurious ambiance of this car. These are used on the door panels and arm rests. There are several storage compartments.
The power-adjustable seats are comfortable as they also include integrated head restraints, folding backseat, and a highly pronounced side bolsters. As a sports car, there are restrictions when it comes to the headroom and legroom, but it is still comfortable with ergonomic features.