This Bavarian mid-engine sports car gets its name from the Le Mans prototype R8. The sports car since 2006 has been produced by Quattro GmbH.
For those who have ever dreamed of driving the 2012 Racing One Audi R8 V10, that is now possible. Racing One has made it possible for you to choose to manually steer the wheel on the race track.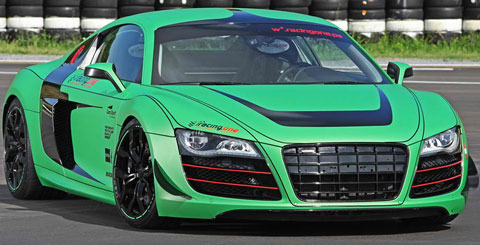 Specifications
General Info

| | |
| --- | --- |
| Vehicle Type: Sport Coupe | Est. Market Price: NA |
| Fuel Tank Capacity: 23.8 gals (90 L) | MPG: NA |
Dimensions*

| | |
| --- | --- |
| Length: 174.5 in. (443.2 cm) | Wheelbase: 104.3 in. (264.9 cm) |
| Height: 49.3 in. (125.2 cm) | Width: 75 in. (190.5 cm) |
| Curb Weight: 3605 lbs (1635 kg) | Ground Clearance: 4.3 in. (10.9 cm) |
| Luggage Capacity: NA | Maximum Seating: 2 |
Performance

| | |
| --- | --- |
| Engine: V10 DOHC | Displacement: 5.2 Liter |
| Horsepower: 610 HP | Transmission: 6-Speed Sequential |
| 0-60 mph: 3.8 seconds | Top Speed: 196 mph (316 km/h) |
* 2012 Audi R8 Specs
Engine & Performance
The R8 has gone through various changes to make it more powerful than the standard model, it boasts of 610 horsepower. This is a major improvement from the 525 horsepower output made by the base model.
Various modifications on the engine have made this possible. They have include a remapped ECU and a titanium flip controlled exhaust system, the exhaust system is made Akrapovic, an authority in exhaust systems.
It also includes ducts for cooling the brakes using "Performance Friction Brakes". These ducts are keep the brakes cool which are important racing.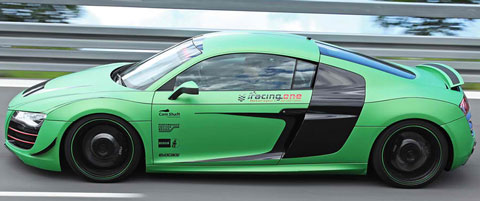 Exterior
The green Racing One Audi R8 at a glance projects a majestic and sporty look. Reports show that the rebuilding costs around 26,000 Euros.
Cam Shaft Kempen is responsible for making the eye catching stickers. The car rests on semi-slick tires and also wears a livery which is made by CamShaft.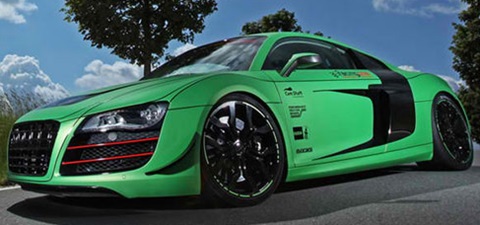 Interior
Technically, Racing One's R8 V10 is a track car which has been equipped with high-performance pads made by Performance Friction Brakes and 2-way MDS dampers by Bilstein Motorsport.
The interior of the Racing One Audi R8 has also undergone modifications. It features sport bucket seats with 6-point belts, braces and a fire extinguisher in case of an emergency. The safety of the driver and his passengers has been considered in the modification.
Another great addition is the video recordings from two cameras which tape all that you experience with data recording which can be used for later analysis via a CAN bus.