The 2012 Audi R8 competes in the arena of exotic sports cars. The new R8 is praised for its performance, aggressive style and comfort. One of the things that the new R8 boasts is its adaptive suspension that adapts to your driving style and the road conditions.
With this useful feature, the R8 is a sports car that you can your even use for everyday driving.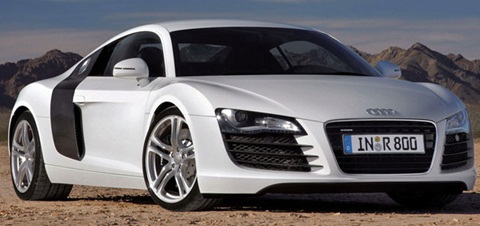 Specifications
General Info

| | |
| --- | --- |
| Vehicle Type: Coupe | Base Price: $114,200.00 |
| Fuel Tank Capacity: 23.8 gallons (90L) | MPG: 11 city / 20 hwy |
Dimensions

| | |
| --- | --- |
| Length: 174.5 in. (443.1 cm) | Wheel Base: 104.3 in. (265 cm) |
| Height: 49.3 in. (125.2 cm) | Width: 75 in. (190.5 cm) |
| Curb Weight: 3605 lbs (1635 kg) | Ground Clearance: NA |
| Luggage Capacity: 3.5 cu ft | Maximum Seating: 2 people |
Performance

| | |
| --- | --- |
| Engine: 4.2L DOHC V8 | Compression Ratio: 12.5: 1 |
| Horsepower: 430 HP | Max RPM: 7900 RPM |
| Torque: 316 lb-ft @ 4500 rpm | Transmission: 6-Speed Manual |
| 0-60 mph: 4.4 seconds | Maximum Speed: 187 mph (300 km/h) |
Available Trims & Engine

| | |
| --- | --- |
| Option:R8 5.2L | MSRP: $149,000; MPG: 12 city / 19 hwy |
Engine
There are three engines available for the R8. First is the 5.2 liter V10 engine that delivers 560 horsepower and 398 lbs/ft of torque. However, only 90 units will be available in the United States.
Next, are the 4.2 liter V8 engine that brings 430 horsepower and 316 lbs/ft of torque and the third is the 5.2 liter V8 engine that delivers 525 horsepower and 391 lbs/ft of torque. All of the engines are, without a doubt, capable of bringing impressive performance.
Performance
Typically, sports cars are driven only during special occasions on specific roads. The R8 is different because you can drive it every day. It is worth mentioning that this capability is enhanced by the adaptive suspension as well as the Quattro all-wheel drive. However, there are complaints about the R tronic transmission because it shifts slow and seems clunky. Nonetheless, the R8 handles well, providing a remarkably comfortable ride.
Exterior
The R8 has an aggressive styling that is typical for exotic sports car. It has a lower stance than your average domestic car to lower the center of gravity and accommodate driving at faster speeds. It has the distinctive front grille as well as the headlight with black detailing. The R8 does not have plenty of lines and overstated curves, making it look very sleek.
Interior
One of the most notable features of R8 is its artsy cockpit that is made from high-quality materials. The seats are luxurious and comfortable. Even if the R8 has a low stance the headroom is still adequate even for drivers who are 6 feet tall. There is enough legroom too, making the seats truly comfortable. The only problem that you will encounter about the interior is getting in and out because the car stance is low.



Safety
Exotic sports cars are seldom tested by the federal government and the Insurance Institute for Highway Safety because they are expensive. Nevertheless, the R8 is equipped with safety features such as airbags, stability control and antilock brakes. The R8 has a hampered rear visibility that is why prospective owners can choose to have parking sensors and a back up camera.
Reliability
The R8 comes with a standard 4-year warranty and 24 hour road assistance that lasts for 4 years. The first scheduled maintenance for the R8 at its first year or 5000 miles is free.
Pros
The Audi R8 has capable engines and excellent sports car performance. With its adaptive tuning, you can even drive this sports car every day. It has good looks both in and out. The cabin is spacious, comfortable and luxurious. It has a well designed cockpit that suits your lifestyle. Furthermore, the R8 is easy to drive.
Cons
There are few drawbacks about the R8 and that is the difficulty for getting in and out because of the low stance. The R tonic transmission is slow and clunky.
At its price, the R8 may seem a bargain for exotic sports car enthusiasts. Its pros definitely outweigh its cons, making the 2012 Audi R8 an excellent choice.
Overall Rating


84 out of 100
What others say:
"From very quick to blindingly fast at the GT end of the spectrum, the R8 nevertheless manages to shed the race suit and don more casual gear with surprising ease."Car Connection
"Prodigious dry-road grip and virtually no body lean make cornering racecar sharp. Quick, crisp steering with just-right weighting combines with ample engine power to allow precise path adjustments."Consumer Guide
"Audi's supercar is a midengined two-seater that shares components with the Lamborghini Gallardo. The regular R8 is powered by a 430-hp, 4.2-liter V8 mated to either a six-speed manual or automatic. "MSN Auto-ConsumerReports
"The 2012 Audi R8 is indeed a supercar fit for a super hero but, unlike some others in this group of elite vehicles, it's not a compromise to drive. Yes, the R8 has incredible performance, but it also ladles on the luxury."KBB
"Stylish, easy to drive and even somewhat of a bargain, the 2012 Audi R8 is an intriguing choice for an exotic sports car."Edmunds