After the success of the Project Kahn RS 300 and Project Kahn Range Rover Sport RS600, A. Kahn Design takes the Audi Q7 as the next subject for a makeover by Project Kahn. A. Kahn design, founded by Afzal Kahn, has been customizing high-quality cars without sacrificing style since 1998. Kahn Design stands to deliver carefully designed projects.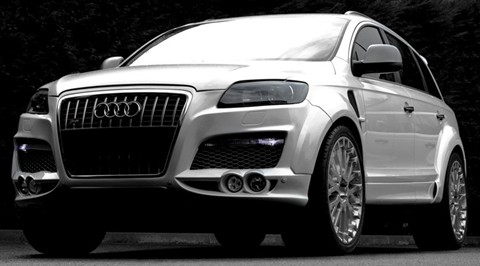 The modified Audi Q7 features: 22-inch KAHN RS-X Wheels, KAHN Wide Arced Body Kit that includes vented front wings, and wears a Pear Soft White paint. The modifications on the interior include a seven-seater quilted leather seating & upholstery, Welcome Lights, Aluminum Foot Pedals, Kahn red and white speedometer, and tachometer. In addition, KAHN added Red and Cream Dials, and a Panoramic Glass Roof.
Like every Project Kahn vehicle, the Audi Q7 accessories may be purchased as standalone pieces. The complete body kit might get pricey, but includes Project Kahn accessories.