Audi is a German company known for its innovations and technological advances in the field of vehicle manufacturing. As part of the Volkswagen group, Audi is responsible for various vehicle models such as cross over SUV's and compact cars. As such, the company always makes it a point to set the standards and break the limits of the automobile world.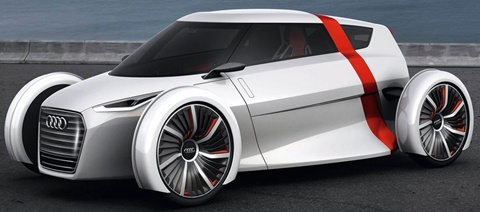 Exterior & Interior
The Audi Urban concept is the brand's attempt at designing the future look of urban vehicles. Moreover, this concept creatively combines the features of sports cars and recreational vehicles into one distinctive design. The Audi Urban is not based from any previous model and creates an entire class of its own.
Featuring a sleek body, the Audi Urban will have freestanding wheels that are adorned with protective plates with strips of LED lights. Inside, the Audi Urban is designed to fit two people with their position in a slightly staggered low level. Moreover, the driver will have the option of adjusting the steering wheel and foot pedals for personal preference.
The cockpit of the Audi Urban is made out of carbon fiber reinforced polymer that efficiently integrates the undercarriage of the seats in the car. With a 21-inch diameter wheelbase, the ultra-lightweight construction efficiently showcases the technological capabilities of Audi.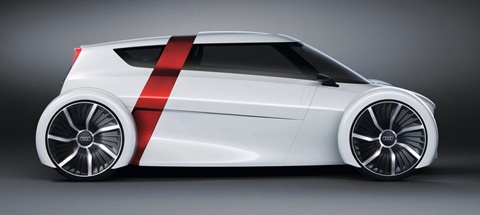 Power
As for the Audi Urban's under-the-hood specs, there are 2 e-tron electric motors that provide the needed propulsion that allows the vehicle to quickly accelerate. Moreover, a lithium-ion battery will supply the needed electrical charges needed for casual city driving.
Specifications
General Info

| | |
| --- | --- |
| Vehicle Type: Concept | Est. Base Price: £ 8,800.00 |
Dimensions

| | |
| --- | --- |
| Length: 120 in. (304.8 cm) | Width: 67 in. (170 cm) |
| Weight: 1100 lbs (499 kg) | Maximum Seating: 2 people |
Performance

| | |
| --- | --- |
| Engine: 2 Electric Motors | Power: 7.1 kWh Li Ion Battery |
| Horsepower: 40 HP | Torque: 71 lb-ft |
| Transmission: Push Button Automatic | 0-40 mph: 6.5 seconds |