The Audi R8 is a showcase of Audi's technical advancements. Named after Audi's legendary R8 cars that dominated Le Mans 24 hour endurance races over the past decade, it is a car that is more than capable of holding its own against any sports car out there. And yet, the crowd asked for more. More performance to be exact. In response to this, Audi have come up with the 2011 Audi R8 GT.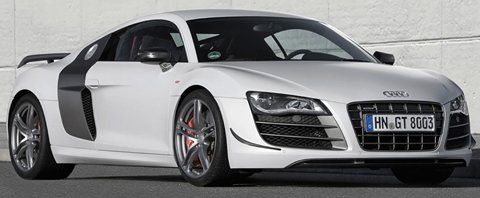 The production of a R8 with added power and lessened weight has been in the rumor mill for a while now, and this is the answer for all these rumors. The 2011 Audi R8 GT represents a weight reduction of 220 pounds. This was done by using a thinner glass for the front windshield and lightweight polycarbonate for the rear window. Other weight reducing modifications include the generous use of carbon fiber to parts like the rear bumper, the side blades, and diffusers. A fixed rear wing, and thinner sheet metal added up to create weight loss. In the interior, glass reinforced plastic seats and lightweight carpeting helped this car to save further weight. In addition, the aerodynamics of this car was enhanced. Downforce produced by this car is increased while keeping the stock R8's excellent drag coefficient of 0.36.
Performance
The engine equipped in this car is the same 5.2 liter V10 engine (essentially the same engine as the Lamborghini Gallardo) equipped in the R8 V10. Some minor modifications and electronic dialing allows it to increase its maximum output to 560 horsepower, while increasing fuel efficiency to 17 miles per gallon. These modifications allow the R8 GT to turn out some huge performance numbers: a zero-to-100 kilometer per hour dash is completed within 3.6 seconds, and a top speed approaching 200 miles per hour. A 6-speed R-tronic transmission transfers the engine's force into Audi's Quattro all wheel drive system and is capable of making gear shifts within 0.1 seconds. An adjustable suspension is equipped, endowing this car with better cornering characteristics. 15 inch brakes ensure strong braking performance, and racing tires is even optional for its 19 inch wheels.


Features
Unbelievably though, the R8 GT is still very practical to use on the road despite its stupendous credentials on the track. Unlike most of its competition, its interior is still equipped with creature comforts such as climate control, a premium sound system, power windows, and navigation. The interior remains practically the same with the exception of some sporty touches. A badge that signifies the production of the car (i.e. ___ out of 333) is installed on the aluminum shift lever. And for those that are looking for something extreme, a race package that includes a roll cage, four point seat belts, a fire extinguisher, and an engine kill switch is optional equipment.
With strong competition from the Ferrari 458 Italia and the Mercedes Benz SLS, the Audi R8 GT definitely has stepped up to the challenge. It is a critically acclaimed sports car that is well received by the general public. And to prove its world beating capability, it lapped the Nurburgring in 7 minutes and 34 seconds. However, this car is destined to be pretty exclusive. The Audi R8 GT is priced at $196,800. And if that's not enough, only 333 are to be made.
Specifications
General Info

| | |
| --- | --- |
| Vehicle Type: Coupe | Est. Price: $196,800.00 |
Performance

| | |
| --- | --- |
| Engine: 5.2 FSI V10 | Horsepower: 560 HP |
| Transmission: 6-Speed R Tronic | Maximum Seating: 2 people |
| 0-60 mph: 3.6 seconds | Best Speed: 198.8 mph (320 kmh) |