The 2011 Audi A8 is by far the sportiest among the luxury sedans that are out in the market today. The body is made of aluminum Audi Space Frame which weighs around 40 percent lighter than the normal steel structure. The cozy interior portion of the car is spacious and everything is designed to suit the taste of its sophisticated passenger or driver. The rear seats are adjustable and the lighting is ambient.

The 2011 Audi A8 has a 4.2 liter FSI V8 engine that runs at an amazing 372 horsepower. Everything inside is digital and the Audi A8 uses the most up-to-date driver assistance technology. The navigation system has a touchpad and its MMI or multimedia interface enables the driver to manipulate all functions spontaneously and easily. A night vision feature makes pedestrians more visible even in unlit areas and it also has a speed limit display.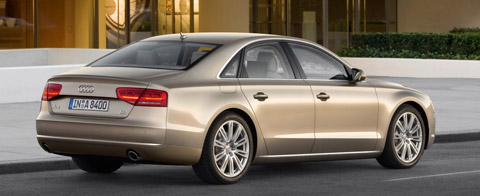 The 2011 Audi A8 is certainly a must-buy for luxury and sports car aficionados.