The sportscar gets revamped with the 2010 MTM Audi RS6 Clubsport that did away with the boring, baggy appearance of the traditional sportscar.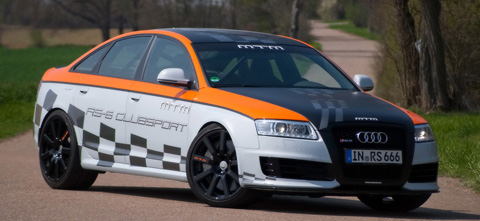 The vehicle's aesthetic factor is a refreshing concept in automotive designing. It is bordered on the lower part with a stretch of black checker vinyl set on white paint. Add to that the neon orange highlights that flank the black cover on either side. With all the vivid colors of the MTM RS6 Clubsport, anyone could spot it way beyond spotting distance.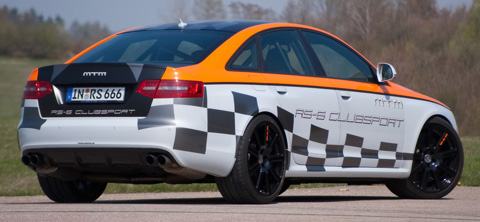 But never be fooled of the flashy look, because the vehicle hides a speedy monster under its hood. The car's 5 liter TFSI V10 Biturbo engine fitted with 6-speed triptonic marked with DSP generates over 730 counts of hp that enables a staggering top speed of 350 mph. It also accomplishes an acceleration rate of 100 mph in as short as 3.6 seconds, and its power/weight ratio is remarkable at 2.65Kg/PS. This performance is further optimized by the Michelin Pilot Sport PS2 Tires, an MTM exhaust system of stainless steel, and the signature Carbon-Ceramic brakes.
The technique behind the MTM RS6 Clubsport is the dynamics between weight and power: less weight and more power are equal to better speed.