The 2010 Audi RS 5 made its debut in the Geneva Motor Show showing off an elegant coupe that hints of unbridled power waiting to be discovered. With a 4.8-liter V8 engine that produces 444 horsepower and a torque of 317 lb-ft, the RS 5 has proven to be one powerful performer. The car is also equipped with a seven-speed S tronic and an innovative center differential to deliver power to all four wheels. The former also enhances the RS 5's efficiency and is made up of two clutches and two subsidiary transmissions.

The 2010 Audi RS 5 boasts of its ability to only consume an average of 10.8 liters of fuel per 100 kilometers. Audi made this possible by optimizing the engine and drive-train to minimize friction and the oil pump to operate only when the car demands for it. The car also has an energy recovery system that helps conserve energy whenever the car coasts or brakes. The seven-speed S tronic also allows the car to operate in a fully automatic mode. A driver can choose among three automatic codes via the standard Audi drive select: auto, comfort or dynamic.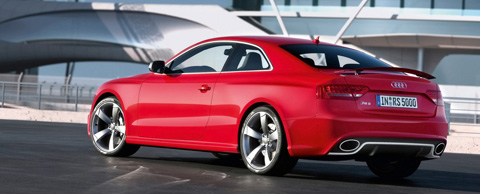 The RS 5 also unveiled its self-locking crown-gear differential for its quattro drive-train which attains a high efficiency ratio by regulating power distribution between the front and rear axle.