For the year 2010, Audi has launched a new sports version R8 V10 which comes with a 5.2 liter 10-cylinder engine, which produces 525 hp and a torque output of about 391 lb-ft. The body of the car is of less weight which is made of aluminum, the modern LED headlights and the stunning design gives a tough competition to the other cars with a breathtaking performance.
The car delivers an output power of about 100.9hp for each liter of displacement where each hp has to push 3.09 kgs of weight; this is due to the reason that the cars gearbox consists of 6 manual speed transmissions that weighs about 1,620 kgs. These transmissions are a standard equipment where the gears can be shifted smooth and easily. The R-tronic mode in the transmission is an option where the car can achieve a maximum speed of 200 km/h in just 8.1 seconds.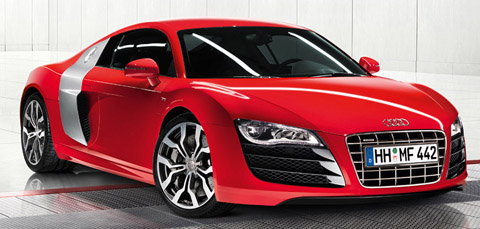 The 10-cylinder engine comprises of a dry sump lubrication at which the engine can be mounted low inside the chassis. The cylinder is located at an angle of 90 degrees, the pistons are made of aluminum and the rods are made of steel.
The brakes are provided with eight pistons at the front and four at the back, the front disc brakes have a diameter of about 15 inches and 14 inches at the back discs. These ceramic discs are very less in weight and have a life up to 300,000 kms. In addition, deceleration is supplied through a muscular braking system.

Specifications
Vehicle Type: – production car, with two doors
Configuration: -Mid Engine/ AWD
Engine: – V10
Torque: – 391 lb-ft@ 6500 rpm
Horsepower: -525 bhp @ 8000 rpm
Transmission: – 6-speed sequential
0-60 mph: – 3.8 secs
Top speed: – 196 mph