Audis have always been cars that love the rush and the elegant yet sporty appearance, and the 2010 Audi R8 GT is simply another attractive proof of this well-known reputation.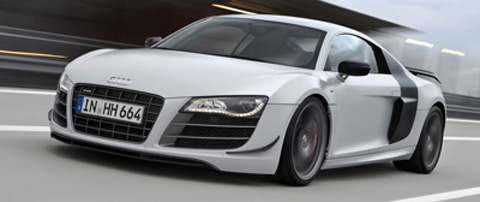 The Audi R8 GT is powered by a 5.2 liter V10 hand-built engine that efficiently generates a monstrous horsepower of 560 counts. It weighs 3362 lbs and has a HP/Weight rate of 6 lbs per hp. The car can accomplish a speed of 100 km in just 3.6 seconds, and run in a maximum speed of 199 mph. The dual flapped exhaust system lets the vehicle run smoothly and quietly despite its immense power. Changing gears is also efficiently done with the R Tronic sequential manual transmission. The clutch and switch function electronically, allowing for a fast transmission in the six gears.

The car's engine frame is of a type of magnesium that is extra lightweight, while its windshields are of glass that is much thinner than the others in its class. The bulkhead flanked by the engine compartment and the passenger cell is also manufactured out of durable, lightweight polycarbonate. Also, the extensive rear hatch is composed of carbon fiber-reinforced plastic or CFRP, which also cuts down on weight. True enough, the GT's designers decreased the weight of the car to allow for more speed.