The Audi A8 L sets the standard for cars of its class in luxury, dynamism and efficiency. Currently launched with a 12-cylinder engine, the car will be available with all the engines of the A8 at the end of the year.
The Audi A8 L has an aluminum body, weighing 40% less than steel thanks to the Audi Space Frame principle. This makes for precise handling, lower interior noise, and higher passive safety for passengers in case of an accident.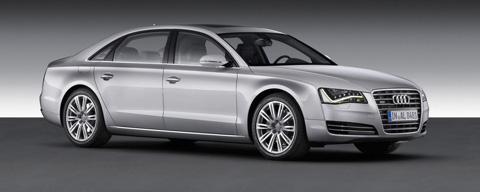 The sporty exterior of the Audi A8 L boasts of a single-frame radiator grille with integral grid structure in a glossy black finish and chrome horizontal bars. There are chrome inserts in the air inlets and chrome accents on the side mirrors. To hint at its power, there are W12 badges on the grille and at the rear. The exhaust system is composed of two trapezoidal exhaust pipes.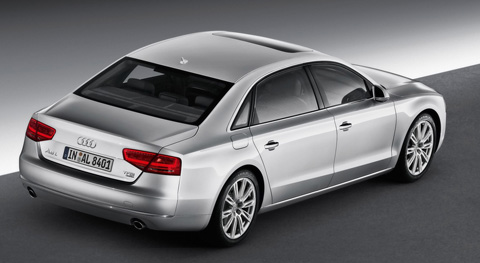 The interior is a work of first-class craftsmanship and design. The seats are covered in Valonea leather. The rear seats can be heated, ventilated and reclined. These are key features in this car.
Specifications
– Engine: 6.3 liter W12
– Horsepower: 500 hp
– HP/Liter: 79.4 hp/liter
– Torque: 461 lb-ft @ 3250 rpm
– Top speed: 155 mph
– Transmission: 8-speed tiptronic automatic
Other features
– MMI navigation plus (optional)
– Adaptive cruise control up to 155 mph
– Bang & Olufsen advanced sound system: 1400 watts of power and 19 speakers
– Online service with Google and Google Earth