The 2009 Audi TTS is a high performance sports car with a powerful TFSI engine.
The Audi TTS was manufactured in both roadster and a 2+2 coupe. The appearance of the car looks a bit muscular and the body structure is made of aluminum and steel. The coupe weighs about 1395 kilograms whereas the roadster weighs 1455 kilograms. The roadster and coupe measure 13.77 ft long and 6.04 ft wide. The roadster also contains a hardtop which can be opened or closed in just 12 seconds.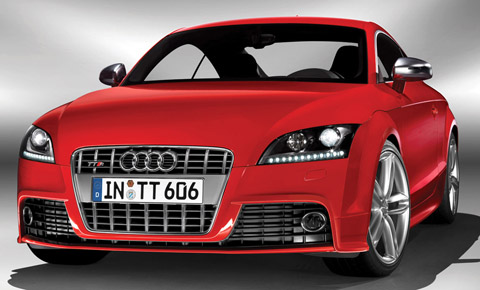 The Audi TTS consists of a powerful turbocharged incline-4 engine with a capacity of 1984 cc. The engine delivers an output power of 268 bhp and 258 lb-ft torque at 2500 rpm. It reaches the speed of 62 mph in 5.3 seconds and the top speed is about 155 mph.
The Audi TTS is equipped with 6-speed manual and S tronic transmissions. The S tronic transmission allows the gears to be shifted easily even at higher loads. This can be operated in two modes which are Normal mode and Sports mode; these modes can be chosen depending upon the road conditions.
The exteriors feature the 18 inch aluminum wheels, specially designed bi-xenon units and the headlights. The interiors feature the Silk Nappa leather seats, aluminum trim panels, metal pedals, audio system and a large luggage space of 290 liters which can be extended up to 700 liters when the rear seats are in folded position.
Specifications
Vehicle Type: 2-door coupe and roadster
Configuration: Front Engine/AWD
Engine: Turbocharged Incline-4
Capacity: 1984 cc
Torque: 258 lb-ft at 2500 rpm
Horsepower: 268 bhp
Transmission: 6-Speed Manual and S tronic Automatic
Width: 72.5 inches
Length: 165.2 inches
Height: 52.9 inches
Weight: 3075 lb
0-62 mph: 5.3 sec
Top speed: 155 mph
Audi TTS Review