The Audi TTS Roadster is a high performance sports car which has a muscular look and gives a thrilling driving experience.
The body of the roadster is made of aluminum and steel and the roadster weighs about 1455 kilograms. The roadster features a soft top which is electrohydraulically operated and it can be opened or closed within 12 seconds even at the speed of 50 kmph. The roadster measures 13.77 ft long, 6.04 ft wide and the soft top measures 4.41 ft.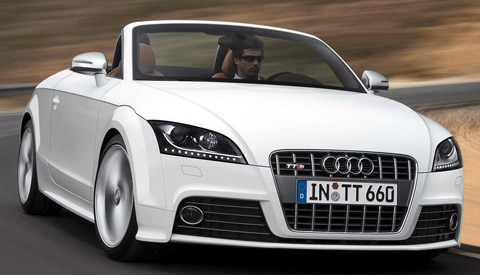 The roadster features a powerful Turbocharged Incline-4 engine with a capacity of 1984 cc. It delivers an output power of 265 bhp, 258lb-ft torque and it reaches the speed of 60 mph in 5.5 seconds and the top speed is about 155 mph. The exhaust systems in the four cylinder engine permits free breathing and produce a great soundtrack.
The Audi TTS Roadster is equipped with 6-speed manual and S tronic transmissions. The S tronic transmission allows the gears to be shifted easily even at higher loads. This can be operated in two modes which are Normal mode and Sports mode and these modes can be chosen depending upon the road conditions.
The exteriors feature the bi-xenon units with LED lights, headlights and the stunning 18 inch aluminum wheels. The interiors feature the Silk Nappa leather seats, audio system, leather steering wheel, aluminum trim panel, metal pedals and the huge luggage space of 250 liters. The luggage space can be increased up to 700 liters when the rear seats are in folded position.
Specifications
Vehicle Type: 2-door coupe and roadster
Configuration: Front Engine/AWD
Engine: Turbocharged Incline-4
Capacity: 1984 cc
Torque: 258 lb-ft at 2500 rpm
Horsepower: 265 bhp
Transmission: 6-Speed Manual and S tronic Automatic
Width: 72.5 inches
Length: 165.2 inches
Height: 53.2 inches
Weight: 3208 lb
0-62 mph: 5.5 sec
Top speed: 155 mph
Price: 44,900 Euros
Audi TTS Roadster Review