The Audi S6 is a high performance luxury car which features a powerful engine and gives a thrilling driving experience.
The body of the S6 is made of aluminum, it features straight exhaust pipes, integrated chrome strip, and LED lights.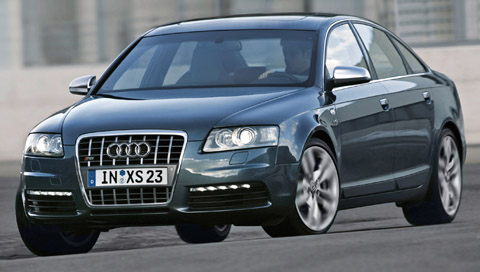 The S6 features sporty suspensions and 18-inch wheels and this reduces the cars height up to 1.18 inches and these wheels features the 17 inch brakes for better handling and grip even at higher speeds.
The S6 features a 5.2 liter V10 engine; it delivers an output power of 435 bhp at 6800 rpm and 398 lb-ft torque at 4000 rpm. The S6 reaches the speed of 60 mph in 5.1 seconds and the top speed is about 155 mph. The S6 features 6-speed Tiptronic automatic transmission and the gear shifts can be performed easily and smoothly even at higher loads.
The exteriors feature LED lights, integrated chrome strip and broad diffuser. The interiors feature an adaptive cruise control, MMI Navigation plus, air conditioning system, CD and DVD navigation combination with 40 GB hard drive, Valcona leather seats and Audi parking system with cameras.
Specifications
Vehicle Type: 4-door Luxury car
Configuration: Front Engine
Engine: 5.2 liter V10
Torque: 398 lb-ft at 4000 rpm
Horsepower: 435 bhp at 6800 rpm
Transmission: 6-Speed Tiptronic Automatic
Length: 4.93 meters
Width: 1.86 meters
Height: 1.46 meters
Weight: 4486 lbs
Wheelbase: 112.1 inches
0-60 mph: 5.1 sec
Top speed: 155 mph
Price: 32,200 Euros
Audi S6 Review